I used to think black metal by day couldn't quite put you in the right vibe what with the lack of darkness, stage effects not having their desired effects, or standing amidst a smaller audience in too big a marquee, but over the years I've come to realize that wasn't necessarily a rule. Especially when the band sucks you in by killing it. Marduk (****) was that band today. This performance was pretty intense since it consisted of little else but blast beats and aggressive high-pitch tremolo riffing. Just what I needed. The only downside here were the inexplicable dead moments in between songs. No need to spew nonsense about after each track, but at least interact with us a little or play songs closer together so as to avoid awkward silence.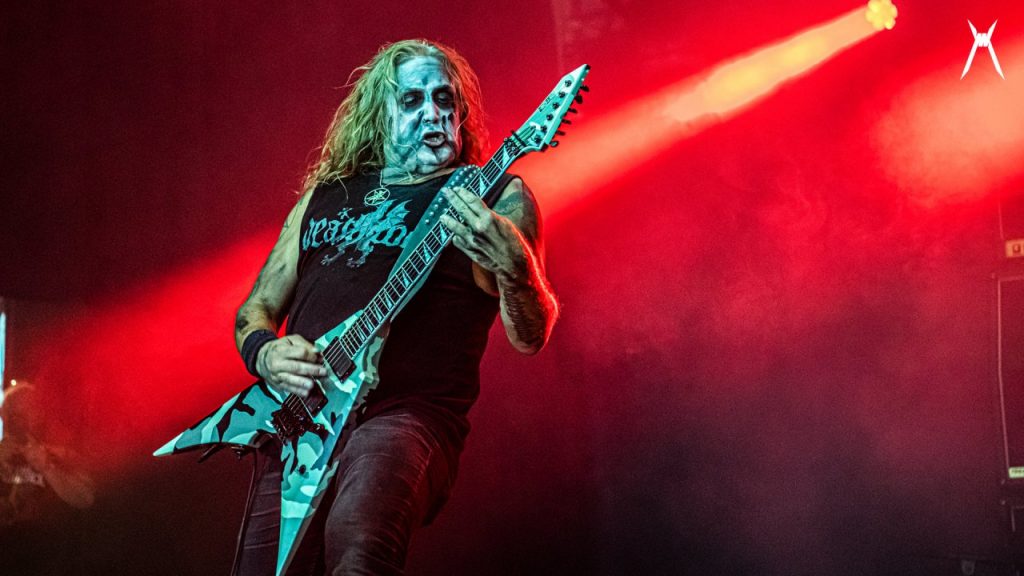 A phenomenon of more recent years, the Ukranian Jinjer (****) have risen impressively quickly in the metal sky. They deserve it too as they are hard working musicians. With their progressive djenty style, their music isn't for everyone. Luckily they have the ever sympathetic Tatiana laying some nice vocal lines on this sometimes complex music. Her out-of-this-earth screams pair up perfectly with her excellent clean vocal style. But don't forget Jinjer is more than just the awesome frontwoman. Eugene, Roman and Vladislav are outstanding musicians as well, and make for one of the best bands of this weekend, and one of the few newer metal bands. Something the mainstream metal scene needs more.
To no one's surprise, Vio-Lence cancelled their appearance, and were quickly replaced by the German power metal band Freedom Call (***). This is a pure blood party band: melodious with catchy choruses that are easy to sing along to. Like so many German power metal bands, you could say. A must-see for a crowd that wants to party. And, though the music was quality good-natured fun, it at times runs the risk of sounding a bit childish. All in all a good break between heavier stuff.
Post-metal Belgians STAKE (****) gave a impressively bombastic performance. Not only entrancing most attendees but packing on hell of a punch too. If you were a fan of the previous iteration of the group, Steak Number Eight, fret not because the new line-up is a faithful continuation. Seems like everyone was here for them today as the Swamp marquee was packed to the brim with people still trying to get in from all sides as the show went on.
BARK (*** ½) succeeded in transforming La Morgue into a frantic ant hill. With their groovy booty-moving metal that went from slow headbanging to more punk songs, the audience ate it out of their hand. It reminded me of good old sweaty shows with COC and Biohazard. Real fun to watch.
This report continues on page 3.