While listening to "See What's On The Inside" we experience Asking Alexandria going back to their older roots, grabbing their inspiration from past influences such as Queen, Metallica, Led Zeppelin, and AC/DC (among others) and I'm here for it. Along with this it, was said that they "arrived at a place of clarity and refreshed sense of artistic purpose". This all comes after Danny Worsnop (vocals), Ben Bruce (guitar, back up vocals), James Cassells (drums), Cameron Liddell (guitar), and Sam Bettley (bass) were finally all in one place recording together for the first time in over a decade! It is also said that they are "armed with a new sense of dedication to themselves and to their fans".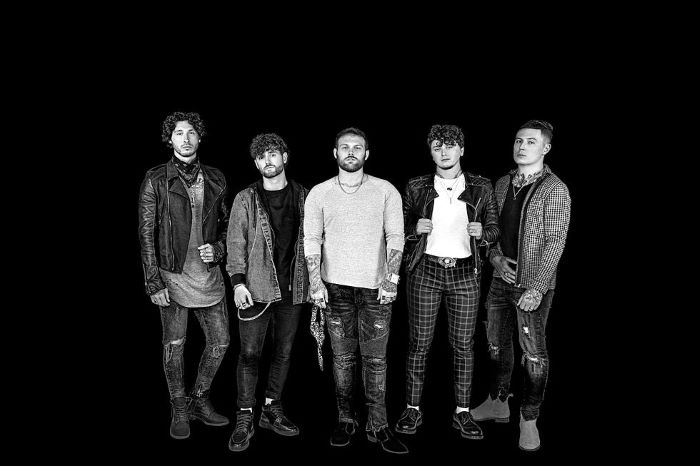 In this album we get to hear the grit and the grain that Danny Worsnop holds within himself. It seems as if this album is a lot of self reflection and setting of boundaries one needs, even if it upsets other people. In their single "Alone Again", you get the idea of being overwhelmed. This is because you're tearing yourself in so many different directions trying to please other people. When this happens you lose the sense of who you really are to the point where you need to pull yourself away from the world because you're tired and it doesn't seem to be getting any better.
During an interview with Loudwire, Ben Bruce was quoted to say:
"At some point in our lives, we all feel lost and confused as to who we are and who we want to be, and I think this song will really unite all of us in that sense. We are so excited to share, not only this new song with you all, but our new album. We went back to our roots as musicians and really wanted to reignite that passion and love for rock and metal music. Metallica, Led Zeppelin, Queen, Nirvana, Soundgarden, Aerosmith, AC/DC … all the greats that we fell in love with as kids have greatly influenced this new album and we couldn't be more excited!"
I especially love it when artists really focus on mental health and how much of a toll it takes on them, even though they're celebrities who seemingly have "no problems in the world". News flash, they're people just like us and have some of the same issues we do.
While focusing on the self-reflection and the unrealistic expectations that the world holds for people, you also get the more uplifting side of things, as shown in track 7, titled "You've Made It This Far". My favorite lyric of the song is "It's crazy how far you've come, all you've done the life that you came from, take a step back and look at who you are. You've made it this far." This is my favorite track off of "See What's On The Inside" just because it is so positive and turns the vibes of the album around a little bit. Everyone need a good reminder, reassuring them that they're doing better than they think they are.
As far as instrumentals I think Asking Alexandria did a great job sprinkling in the guitar solos, as well as making their music loud, and prominent. There isn't a song where you can't hear the instruments being played. Whereas sometimes I listen to certain music and think about how I wish the drums (or the bass) were more pronounced, with this album there's no wishing, you get everything up front and heavy.
I'm so happy to hear that Asking Alexandria is finding a renewed love for what they do, and that they're gearing back towards what they came from. Them coming back together like this is certainly a recipe for great things to come and I can't wait to see what they've got in store for us!
Release Date: October 1, 2021
Label: Better Noise Music
Track List:
Alone Again Intro
Alone Again
Faded Out
Never Gonna Learn
If I Could Erase It
Find Myself
You've Made It This Far
See What's On The Inside
Misery Loves Company
Fame
The Grey
Follow Asking Alexandria online:
Official Site – https://www.askingalexandria.com/
Instagram – https://www.instagram.com/askingalexandria/
Facebook – https://www.facebook.com/askingalexandria
Twitter – https://twitter.com/SUASlyrics