20 Jaar Kinky Star – Dag 9 : Killer + Irreligion + Vulgar
21 April 2017 @ 19:30

-

05:00

Free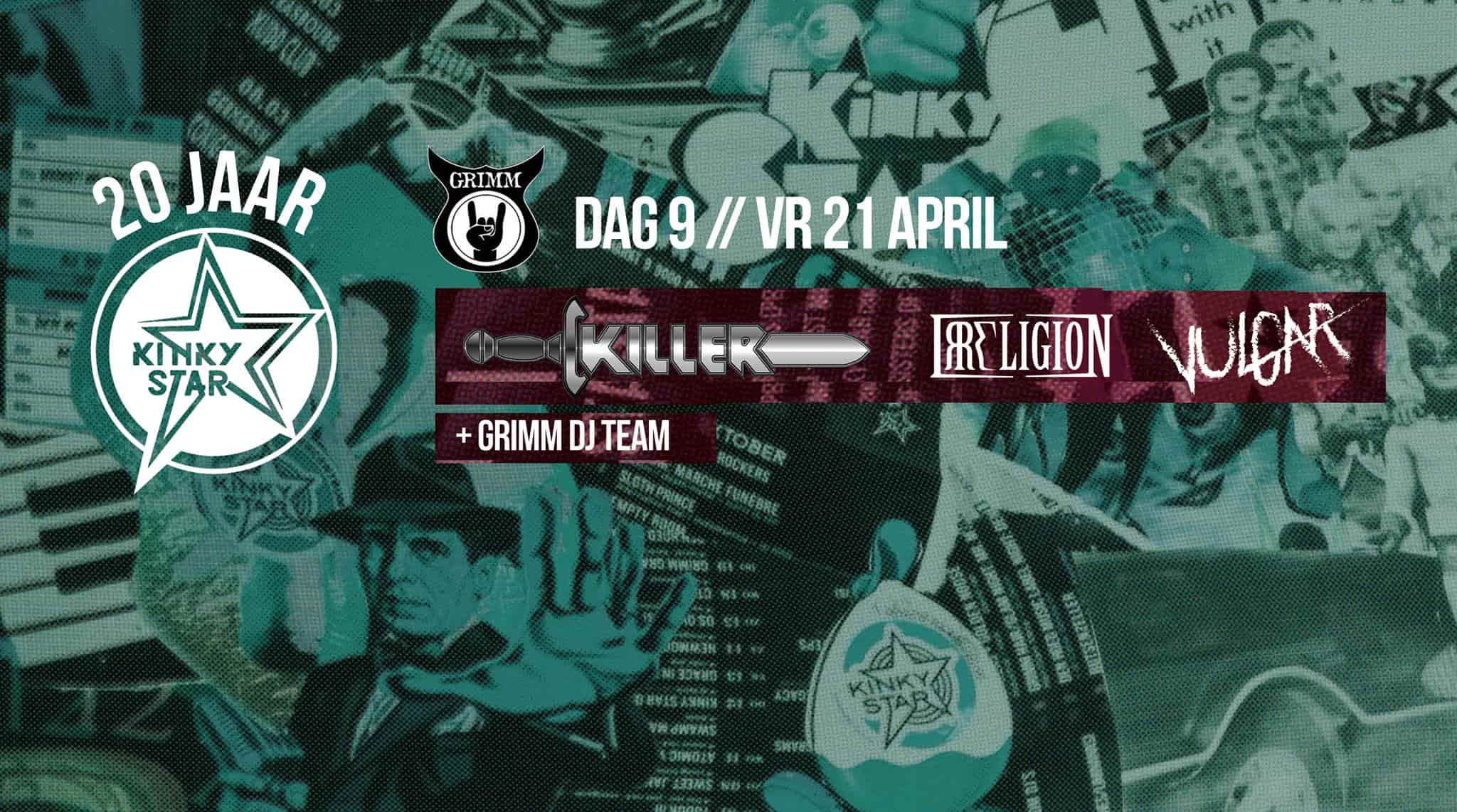 Muziekcentrum Kinky Star wordt 20 jaar, en dat laten ze niet zomaar voorbijgaan! 10 dagen lang feesten met gratis optredens, en wij van GRIMM mogen dag 9 organiseren!
19u30: Doors
20u30: VULGAR
22u00: Irreligion
23u30: KILLER
00u30: GRIMM DJ Team
---
KILLER
Was founded in 1980 by Paul " Shorty" Van Camp (lead guitar + lead vocals) and "Fat Leo" (drums) who had just splitted up their previous band "Mothers of Track".
After a few auditions "Spooky" (bassguitar + lead vocals) joined the band. They decided to stay
a powertrio and started working on the songs.
Already after 4 months a first record "Ready for Hell" was recorded and released by major
company WEA (Warner Bros). After this release Killer knew a very fast evolution and became a well respected and major band allover Europe and even abroad. Killer was managed and adviced by Alfie Falkenbach, Leo Felsenstein and Stonne Holmgren, the guys who later founded "Mausoleum", one of the first independent Heavy Metal labels..
"Killer" was the first Belgian metalband inspired by upcoming success of the NWOBHM bands
such as Saxon, Iron Maiden, Def Leppard etc.
Due to the trio formula, the rough voices, speedy uptempos, and double bassdrums, Killer was always compared with "Motorhead". This was rather an honour than an insult.
Killer and Motorhead were speedy bands long before the existing of "Metallica", so in a way we were innovators in the early eighties. Although "Killer" was not punky but always very melodic.
In 2002 the the grunge fashion was burning up and melodic power metal is again on the rise,
Mausoleum was restarted by Alfie Falkenbach, and KILLER was offered a new record deal again
Shorty started KILLER again, this time with some younger guys in the line up and with addition of a keyboard player to make the sound a bit more modern and bombastic.
They recorded the well respected come back album "Broken Silence" (what's in a title) and soon they went again on stage together with for example "Dio / Motorhead / Queensryche / Doro. KILLER was even opening act on the big "Graspop" festival on main stage in 2003 and they did some German festivals as well. In 2005 a follow up album "Immortal" was recorded in Germany, and up so far this is the best album ever.
For the near future we are hoping to make another album, but due to changing line-ups and other (musical and non musical) activities, it takes longer than we ever hoped or wanted.
> http://users.telenet.be/4-killer/
---
IRRELIGION
Irreligion was started by founding members Angelo & Sidney in 2015. Soon the two started rehearsing and writing the first songs.
After a while the band finally added a second guitarist: Emile-Arthur.
And last to join us was bassist Warre .
Since finaly completing the first setlist, the band will be playing shows in the near future…
> https://www.facebook.com/irreligionband
---
VULGAR
VULGAR is a Flanders based band. We play a mix of groove, thrash and old school NY hardcore with influences of bands like: Machine Head, Pantera, Soulfly/Sepultura, Pro-Pain…
> https://www.facebook.com/VULGAR-1317236911655097
---
GRIMM DJ TEAM
GRIMM's eigen sterren van de draaitafel bundelen de krachten!
Cherry Pie:
The (80's) hair/glam, hardrock, heavy metal tunes you love. Let's all party like tomorrow is the end of the world! All night long; Swing it!
Doctor Rockter:
Feeding your addiction to eighties hair/glam metal, hard rock and heavy metal music!
I'm your doctoooooor!
Mein Herz Bernd:
Resident DJ GRIMM Gent, Metal, Hardrock, 80's, Industrial.
Details
Date:

21 April 2017

Time:

19:30 - 05:00

Cost:

Free

Event Categories:

Event Tags:
Organiser
GRIMM

Email:

info@grimmgent.com

Website:
Venue
Muziekcentrum Kinky Star

Vlasmarkt 9




Gent

,

Oost-Vlaanderen

9000

+ Google Map

Website: