Bands, festivals and the lot are releasing branded booze by the dozens these days. GRIMM makes it its mission to get to the bottom (of the bottle) of this trend with insightful reviews and extra backgrounds. So sit back, PICK YOUR POISON, and discover all you need to know about your favorite band's alcoholic brands!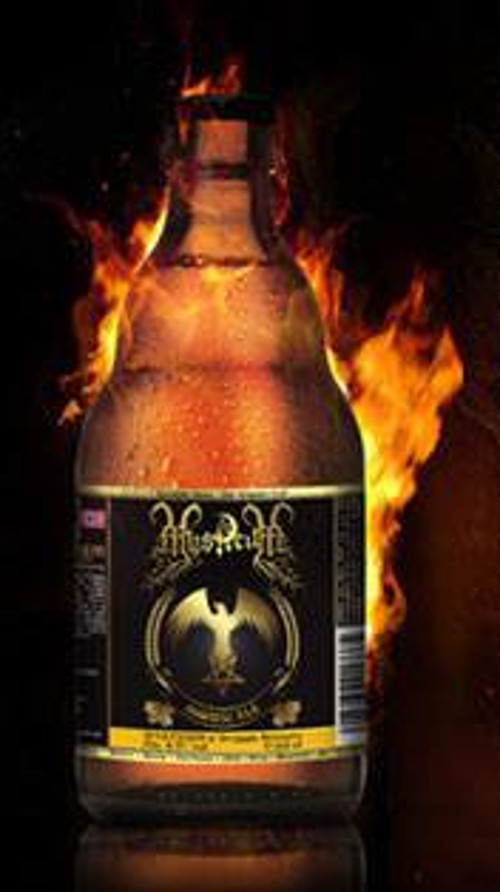 Poison Fact Sheet
Poison style: Pale Ale - Belgian 
(ABV = Alcohol By Volume; IBU = International Bittering Units)
A while ago we delved into Mysticum's realm with their Cosmic Tripel. You can find our review here. The interesting flavor patterns made us curious for its little brother: the Cosmic Ale.
Tasting
The Cosmic Ale pours with a large white head which, however, dissipated rather quickly. The beer is a dark yellow to orange colour and relatively hazy. Bryggja Brewery really scores on this aspect of their ales as both Cosmic beers made us eager to taste just by the looks of them. So let's delve in with our nose. The aroma is crisp and grassy with strong hints of orange. We stand surprised as this is a profile we would have expected for the Tripel. The mouthfeel gives a medium carbonation. The beginning is quite yeasty, different from what you would have expected of the smell. Next, we taste citrus zests returning in the flavour together with a hoppy bitterness. Suddenly a wild little sour appears before evolving into a grapefruit ester. For those of you who were thinking of Pokemon in that last sentence, we salute you! Gotta drink 'em all!
The Cosmic Ale is intriguing and pleasant at first. However unfortunately, the sour touch prevails the longer the beer remains in our glass during our fascinated discussion of its many different facets. The taste sensations evolve a bit too quickly leaving us to the conclusion the brew is still a bit unstable. Overall, the Cosmic Ale is a beer with quite some twists and turns. Despite its low ABV of 4,7% it packs a lot of flavour. We would not agree with the style of 'pale ale' as it is mentioned on the Untappd app, but rather think of it as a blond beer tending towards saison characteristics. If you have the chance to try this bad boy, do not hesitate to give him a try.
Packaging
Unfortunately on terms of packing we can't tell you much more than we did for the Cosmic Tripel as the label is almost an exact copy. Only the yellow band and lettering tells the difference. Have a look at the Cosmic Tripel article here if you want a more in-dept description.
Where to get the beer
For Belgian readers, you won't have too much trouble finding a few bottles of this beer normally. Quite some beer shops with a larger collection of special beers on offer, will have this beer on stock. If you happen to be in the neighborhood of Ghent, don't hesitate to drop by our bar Asgaard where a few bottles of Mysticum's Cosmic Ale (besides its bigger brother the Cosmic Tripel) might be left! For our foreign readers: don't hesitate to contact the brewer through Facebook or their official site to hear them out if you could get your hands on a few bottles...