Germany is the place to be if you are a fan of dark music. Throughout the years, the country has been a large part of the Rock, Metal, Goth and Industrial scene.
M'era Luna Festival is one of the biggest dark music festivals of the world. For the sixteenth time they invite people to an amazing weekend full of musical acts, fashion shows and of course late night parties in the Disco Hangar. This all takes place at the grounds of the regional airport Hildesheim Drispenstedt (a former British Army base), near Hannover.
It all started in the year 2000 when they hosted a gig for one of the biggest and most revered goth bands in existence, The Sisters of Mercy. Since then it's hosted blistering sets of Placebo, The Prodigy, Marilyn Manson, Rob zombie, Killing Joke, Fields of the Nephilim, Epica, Bauhaus, New Model Army, Soft Cell, Apocalyptica, HIM, Tiamat, Anathema, The Cult and hundreds more. This year The Sisters of Mercy return to Hildesheim!
The M'era Luna Festival is known and appreciated for its familiar atmosphere, the medieval and gothic clothing and accessory fair (full size gothic market), scenic book readings, fashion shows, diverse food and beverage offers and of course for the Goth, Metal and Industrial music. Every year around 25 000 fans with extravagant outfits travel to Hildesheim.
LINE-UP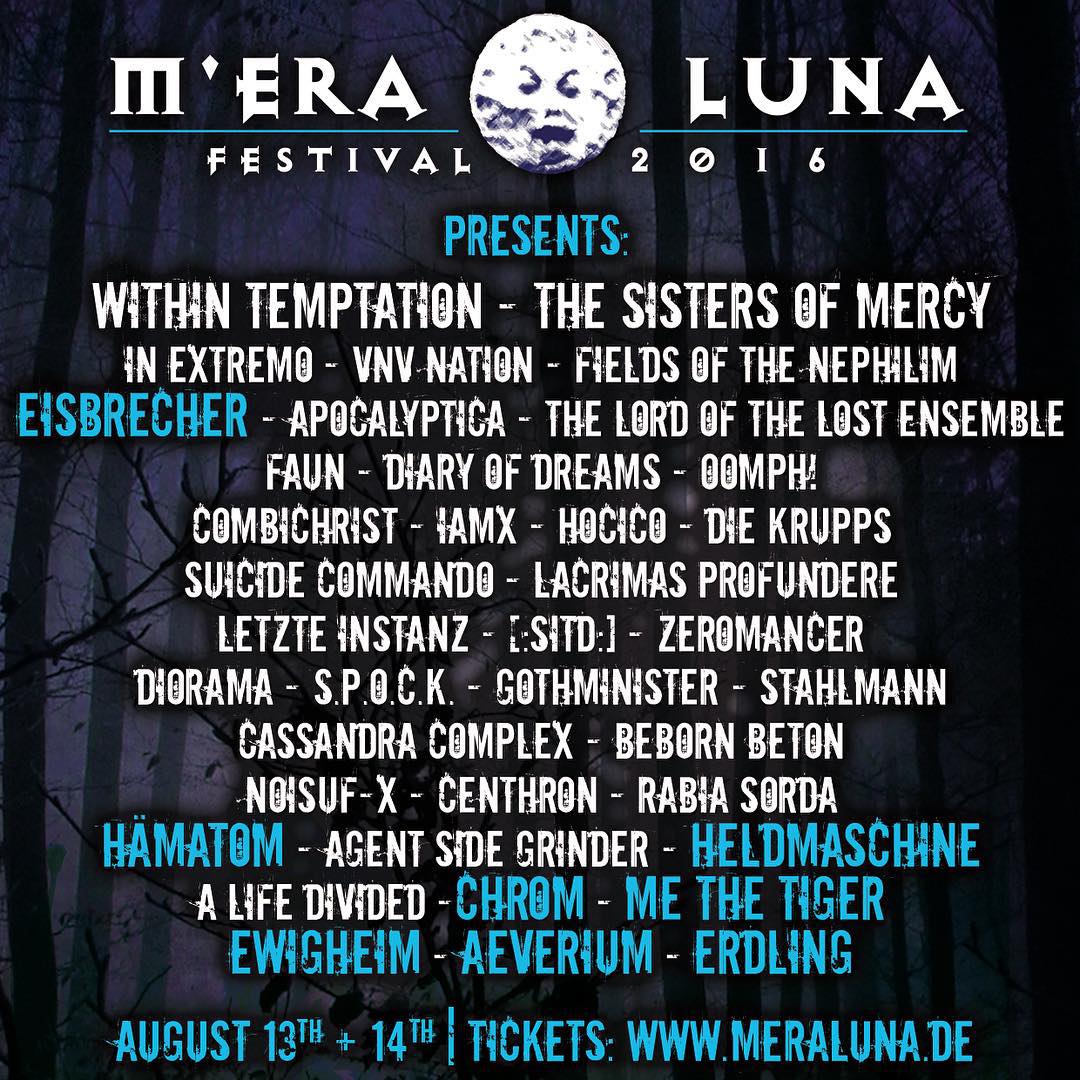 Click here to check out the running order.
The line-up contains old heroes as well as the popular bands that appear at several festivals this year, as well as the smaller, not so well known bands.
Within Temptation, The Sisters Of Mercy, In Extremo, VNV Nation, Fields of the Nephilim, Eisbrecher, Apocalyptica, The Lord Of The Lost Ensemble, Faun, Diary Of Dreams, Oomph!, Combichrist, IAMX, Hocico, Die Krupps, Suicide Commando, Lacrimas Profundere, Letzte Instanz, [:SITD:], Zeromancer, Diorama, S.P.O.C.K., Gothminister, Stahlmann, Cassandra Complex, Beborn Beton, Noisuf-X, Centhron, Rabia Sorda, Hämatom, Agent Side Grinder, Heldmaschine, A Life Divided, Chrom, Me The Tiger, Aeverium, Erdling, Vlad In Tears, Essence of Mind.
LOCATION
Driving from Ghent (Belgium) to Hildesheim takes about 5 to 6 hours. Follow the route Antwerp, Eindhoven, Dortmund, Bielefeld, Hannover and Hildesheim.
When you arrive at Hildesheim take freeway A7, exit Drispenstedt, follow signs "Zentrum", turn right into Lerchenkamp, direction port/airport (Flugplatz). Signs with "M'era Luna" will show you the way to the festival.
You will be directed to parking and camping lots. Please follow the instructions of the stewards. Parking and Camping is separated. Please be aware that you will have to carry your luggage from your car to the campsite. Every year they try to keep the distances short.
FESTIVAL AREA
As soon as you arrive at the festival site please exchange your ticket for the festival wristband. You will need it to get to the camping and festival site. At the counter you will get a booklet with some essential festival information and a map. You will also receive the waste bag and the chip. When you return the filled garbage bag and the chip at the end of the festival, you will get your 5 euro waste-deposit back.
Taking pictures for private usage is permitted. Professional audio- and video recording equipment are not allowed on the festival ground. Any abuse will be prosecuted.
Glass or plastic bottles and cans (tins) are not allowed on the festival ground but you may bring a small lunch package and "Tetrapaks" (up to 1 liter). Tap water is available for free.
Drinking water is available for free and can be found on the festival grounds.
PAYMENTS / MONEY
Be sure to take enough cash because there's no ATM at the festival area. You will have to get your money at the next Fuelstation "Lerchenkamp" (corner "Steuerwalder Straße") or at the next two banks with cash dispenser:
Stadtsparkasse Hildesheim, Bernwardstr. 10
Stadtsparkasse Hildesheim, Martin-Luther-Str. 43
FOOD & DRINKS
There is an impressive range of food on offer which includes the traditional festival burger and chips as well as traditional German Bratwurst and Currywurst, Brötchen (bread-roll sandwiches), Handbrot (a kind of freshly baked roll containing cheese and meat or mushrooms topped with sour cream and chives), oriental stir fried noodles, Pasta, freshly baked Pizza, Falafel etc.
CAMPING AREA
Camping is only possible with the M'era Luna Combi-ticket (2 days incl. camping).
The camping opens on Friday at 1 pm and closes on Monday at 10am. No glass bottles and laser pointers! Be prepared for almost any weather.
SANITARY FACILITIES
The campsite has a block of temporary water toilets, a drinking water point and as well as temporary traditional festival toilets. There are also showers with changing areas but there are often queues for both water toilets and showers.
THE GOTHIC GARDEN
After a successful start last year the festival will organize The Gothic Garden again. It's a an oasis of tranquility in the middle of the festival. On request of the Phobos & Ganymed housing visitors they expand the offer by separate sanitary facilities with water flushed toilets and showers. The Gothic Garden Phobos package is available for 384€ per person, including the festival and resort ticket. For more information: moc.o1642405102iproc1642405102spkf@1642405102nedra1642405102gciht1642405102og1642405102.
PHONE CHARGING
Volt will be at M'era Luna offering portable phone charging.
IPHONE EN ANDROID APP
GET IN THE MOOD
MORE INFO
Festival Tickets for both days are available for € 94 (incl. fees and garbage deposit), click on the image for more information.
M'era Luna 2016 takes place on the 13-14th of August 2016 in Hildesheim, Germany.