You can find metal, rock, punk,... back in almost every aspect of life, also in literature (Yes, we read!). Whether it's an artist or band sharing their stories with you, a book of poetry that goes along with the music, a comic book about a band or just something that appeals to rockers and metalheads in this world, we want to bring you an idea of what goodies there are waiting for you.
Enter "The GRIMM Reader"...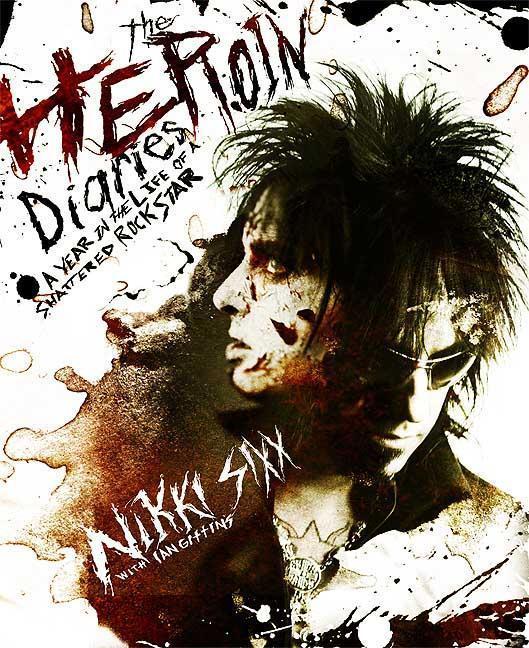 Book Pasport
Title: The Heroin Diaries
Story & Concept: Nikki Sixx
Text: Nikki Sixx & Ian Gihins
Illustrations: P.R. Brown
Theme: Autobiography
Publication Date: August 21, 2007
Page count: 413
Publisher: Pocket Books
ISBN-13: 978-0-7434-8628-6
Where to start… 'The Heroin Diaries' is impressive in many ways. Nikki Sixx decided to share the experiences with his drug addiction with the world. Heroin was the worst drug he was on. But he was also on acid, cocaine, and other hard drugs. This book describes the good parts and the bad parts. The ups and the downs. But mainly the downs, as the drugs made sure that al the positive things disappeared from his life. The stories are deep and after you read this, you'll be sure to never start heroin or any other drug in your life. Hallucinations, letting people down, destroying yourself… This is, quite literally, one hell of a book.
Nikki Sixx, bassist of Mötley Crüe and now bassist of Sixx A.M. talks about his addiction to heroin. The book describes the worst year of his addiction, which was between December 1986 and December 1987. Mötley Crüe took off fast and with the success, the money came as well. He spend up to 3000 dollars on drugs a day. It's a miracle he's still alive. Or actually, he died twice.
Once he overdosed and got dumped in a dumpster because the people who were with him thought he was dead and didn't want to deal with a dead body. Sixx got op the next morning and stepped out of the dumpster like nothing happened. The second time he was at a party with Slash, the guitarist of Guns 'n' Roses. Sixx overdosed and ended up unconscious. The ambulance was called and they tried to get him back to life. It didn't work at first, but the guy in the ambulance was a Mötley Crüe fan and he tried one more time to get Nikki back form the dead. He succeeded. Meanwhile, the message that Nikki had dead already spread throughout the world. Nikki took it as a joke and recorded a voice message on his answering machine that he couldn't answer because he was dead.
Have you ever heard the Mötley Crüe song 'Kickstart My Heart'? Well, if you thought it was a fun, upbeat song, it's basically literally about what happened to Nikki.
This is just one of the many, many heavy stories told in this book. Nikki started a diary because he had no friends left to talk to because of his addiction. Also, because of the heavy drug use he couldn't remember what he did the day before. So the diary was a "nice" way of remembering what happened. And if he would die, there would be a paper trial.
Because of the drug use, he basically lost all the friends he had in life. He even couldn't go to the funeral of his grandmother Donna, who took care of him. He experienced hallucinations on a level where he secured his house like it was a military base. Nikki used to call the security company because he was sure there were people outside who were going to infiltrate the house. He injected heroin even in his penis with dirty toilet water… "Bad" is not a strong enough word to describe some of the stories being told.
In the book you'll find the diary entries with dates and places of where they were written. After an entry, Nikki and the people that are being talked about in the entry reflect back on what happened. The stories are also illustrated by some pictures. This shows what drugs do to you. It's like Nikki tried all the bad stuff, so nobody else ever has to try it themselves. Believe me, or believe him, you don't want to after you read this.
The book got released in 2007 and in 2017, the 10 years anniversary edition got released. This second edition includes a new cover and additional chapters. There's also an audio book version. With his current band, Sixx A.M., he also released a CD with the book. The CD 'The Heroin Diaries Soundtrack' tells the story of the book with the same emotions as you get when you're reading it. One song in particular, jumps out. 'Life Is Beautiful'.  It's the song that kind of summarizes the book a bit. Nikki only realized life was beautiful after dying twice. This is a part of the lyrics of the song:
'I know some things that you don't
I've done things that you won't
There's nothing like a trail of blood to find your way back home
I was waiting for my hearse
What came next was so much worse
It took a funeral to make me feel alive

Just open your eyes
Just open your eyes
And see that life is beautiful.
Will you swear on your life,
That no one will cry at my funeral?'
With the 10th anniversary of the book, a 10th anniversary of the album was released as well.
The book is not all bad things. There're also humorous parts in there. Like the fact Nikki couldn't play the bass or didn't know what a bass was even though he's a bass player. He wanted to join a band and the members told him to get a bass. He walked into the guitar shop with an empty guitar case and just put a guitar in there. He walked out like that and nobody noticed anything. He did get home with a guitar, and not a bass, but hey, he got a 1000 dollar, free guitar.
There is so much to say about this book, I could go on forever. I did talk about some of the things being told in the book, but there's so much more to it. Definitely check it out and dive in to this life changing, heavy story.
Reads Best With...
https://youtu.be/PYlS_kmxES0