Orator is the first full album of The Silenced, a band based in Helsinki, Finland. The five-piece band project describes themselves as genre defying, with the closest calls being groove metal and deathcore. It originally started with Juha Immonen (vocalist) and Janne Jaakkola (guitar) (both ex-Hevein), but the project grew wings and is taking off now with their first release, completed with Tomi Koivunen on bass, Janne Virtala adding to the brutality with another guitar and Joonas Osara on drums.
'Orator' is an album that is a very dark blue, some would say mostly black. For their first time with a full-length, The Silenced have perfectly reflected what they are all about: a solid, stamping rhythm, grunts that would make your mother cry for Jesus, and just buckets and buckets of brutal hardcore metal. But it's not just vibrating walls and flinging hair that makes these guys fun to listen to, they weave in quotes and references to great tidbits of history like Schopenhauer and Semmelweis, so there's a lot to dig out.
The first album boasts 11 songs, each of them with a slightly different flavour. You get thrown straight into the action with the song "Resist To Exist", which has a pretty compelling music video. It is an immediate testament that The Silenced, contrary to the name, like it rough, and they like it loud. A devastating start to the album.
"Death on the Rise" is another powerhouse, grabbing your attention by the ears and grunting right into them. I have not moved since the start of the coronavirus outbreak, and the breakdown literally gave me visions of a bloodbath of a moshpit. Sadly the chair in my room did not survive the encounter.
Overall, the album is an overwhelming wall of sound, with a solid technique that can be found in the consistent rhythm, even with the changing tempos. But it's just that rhythm, and sometimes the repetition of certain parts in certain songs, like "Metanoia", that makes your mind tends to wander. But, then "Arguments of Ignorance" comes on and you're snapped back to attention by Juha. The harsh vocals, steady pounding of the drums and the screaming guitars make sure to bounce your knee or tap your feet in situations you were supposed to sit quietly by your desk.
Sadly, all good things come to an end. But before this album is over, "The Semmelweis Reflex" comes along for a pick me up. Appearing to be influenced by Slipknot and Pantera, it has a pounding rhythm, great lyrics and blows you away with the amount of sound a piece of wood and six strings can develop. "Slave New World" is a searing, screaming end to it all. Not very lyric heavy, but the message is clear: "We aren't slaves, we are free!". You can immerse yourself in the brutality that is the final song of this album, which makes for a roaring end to their first release. Good job, The Silenced, to many more!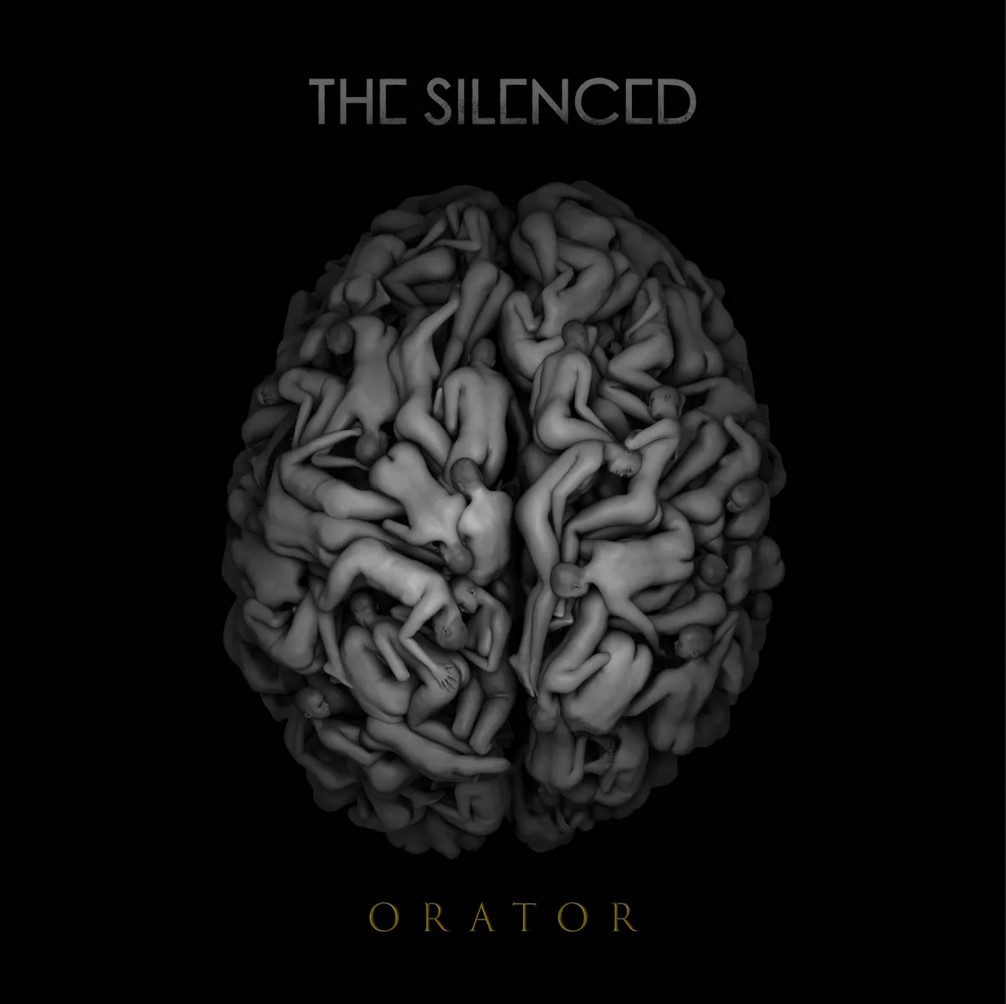 Release date: February 14th, 2020
Label: Out of Line Music
Tracklist:
Resist to Exist
End Machine
The Tyranny of Words
Death on the Rise
Omnigma
Metanoia
Arguments of Ignorance
Conditioned Thought Patterns
The Semmelweis Reflex
Beyond the Pale
Slave New World