Wacken is celebrating its 30th anniversary this year. It all started out in 1990 and has always been sold out since 2007. 
The festival is insanely big. This year they had their own Metal Market where you could buy food and drinks and basic stuff. It has 9 stages which will keep you busy for the whole day and maybe there are things you have to miss out due to this. There is always something for everyone. There are so many genre playing Wacken that everyone will enjoy this festival. Going from well-known classics to new beginning bands to discover.  
This year was a good year a lot of sun but some storms too. Like they say on the holy grounds RAIN OR SHINE! We had to seek shelter for about two times when there was a thunder storm but well that was basically more time to refill the alcohol in the belly. Too bad some shows had to stop in the middle of their set list. But don't get me wrong WACKEN is a festival I will never forget. Let's go a little deeper in what I saw. What I liked and what disappointed me. But remember my opinion is not yours! Grab some beer and enjoy! 
Time for Battle Beast I would say the band with the voice of an angel but nothing is more true than the power of Noora's voice. The band started out with 'Unbroken' following up with a familiar song called 'Familiar Hell' and 'Straight to the Heart'. What surprised me was how Noora's eyelashes did not fall off. They seem to be bigger every show. But this has nothing to do with the music.
They definitely kicked ass on the Holy Grounds. With the song 'Out of Control'. Most of the show were songs from the new album. Something refreshing like the songs 'Eden', 'No More Hollywood Endings' and 'Unbroken'. It was a lot of fun to hear the new songs live. For me this was the first time hearing these live. The new album definitely does not have to undo from other albums of Battle Beast.
Let the Americans show how they do it oversees. It is fucking 32 degrees no shade and I don't know how much I can give but I sure as fuck am happy I don't have to play on stage. The band entered with the song 'Warzone'. Followed by 'Defy' and 'Would You Still Be There?' I just love this song and let my hair go loose! The band has a very high headbang potential. In 1/3th of the set the played: How to survive? That was also what I was wondering in this heat… They had a great setlist containing songs like: 'Unbreakable', 'Instincts', 'You Make me Sick',…
At the last song they asked everyone to get down. And to my surprise everyone did. There was almost nobody from the first 50 rows that kept standing. At the drop of the drum we jumped up and unleashed one last party for this band!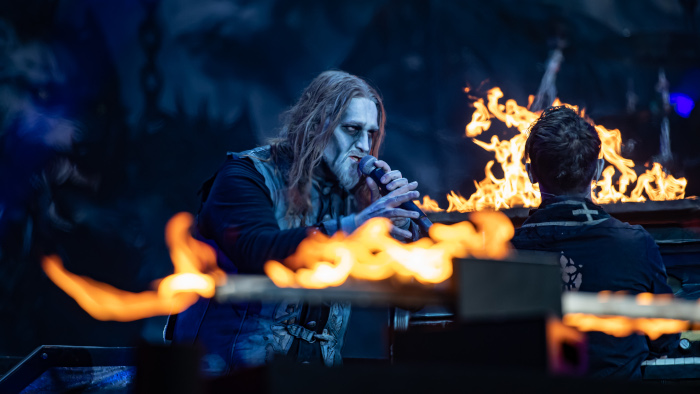 Standing in the crowd, some people next to me : 'First time seeing them, I heard they aren't too crazy'. You poor unfortunate soul, you are in for a world of insanity and pain! Powerwolf is home, they are adored by the crowd and you could feel the tension building up. They start the show with 'fire and forgive', as even though the crowd is baking in the sun, they don't hold back with the flamethrowers.  And when that is not enough, Attila comes on stage with flamethrower in hand, Hot as hell would be an understatement for them.
Their setlist contains new and old : 'Amen and Attack', 'Demon's are a Girls best friend', 'Sanctified with Dynamite' and offcourse 'Resurrection by Erection', that song always gets the blood pumping with the fans ! (I do not regret this joke!) After more than an hour of this amazing show, it's time for the last song and what better is there than 'We Drink Your Blood'. The night has fallen on this band and with roaring applause they take off the stage with 'Wolves Against the World' playing in the background. It's time for the army of the night to head over to the Harder Stage for Parkway Drive. 
The show started with a little video following them around. When the video showed the Wacken stages all heads turned. This crazy Australian metalcore band was guided by security and crew carrying torches through the crowd. Making their way to the stage. Just a meter away from me they jumped over the barrier and climbed on stage. Opening the set with Nothing's gonna stop me until I'm DONE! Yes that is right 'Wishing Wells'. This song was followed by 'Prey'. After this song Winston announced one of the band members had an accident. And the guys mom rolled him on stage in a wheelchair and he continued the show hitting his bass from his wheelchair. His mother did her very first crowdsurfing at the song 'Carrion'. I hope she had a blast! This band is holding nothing back to proof they are worthy headline material. 
In the encore 'crushed' was played which got us smashed into the front barrier. Everyone in the crowd was giving their best. Last song was 'Bottom Feeder'. Winston McCall weaponed with a torch in hand ready to blast of the last song. The guys gave there last everything and gave the crowd a run for their ticket.
Saxon is one of the older bands that I love a lot. They have a lot of classics which I really enjoy. They played an amazing set from 19 songs. Sadly enough I found that the sound was not that amazing if I compare this to other songs. The opening started with 'Motorcycle Man' followed by 'Battering Ram'. After they got the crowd wild and running we followed with songs like 'Wheels of Steel', 'Backs to the Wall', 'Power and the Glory'. There is so much to talk about. Even due the sound being of in the field the guys from Saxon gave it all. In the encore one of my favourite numbers was played 'Crusader'. The show ended with of course 'Princess of the Night'. Back to the good ol' days