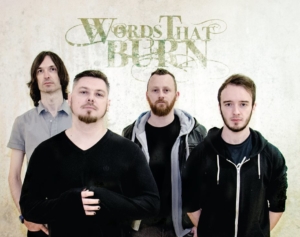 Het vierkoppig Noord-Oost Ierse Words That Burn (WTB) bestaat sinds 2010 en brengt met alternatieve en melodische metal binnenkort Regret Is For The Dead uit. In 2015 tekende de band drie internationale contracten bij muzieklabels: apart voor het opnemen (WormHoleDeath Records), verspreiden (Aural Music) en publiceren (Warner Chappell Music Holland BV) van de muziek. Sindsdien verfijnden ze de muzikale capaciteiten door middel van een multifunctioneel repetitie lokaal. De grootste invloeden of inspiratiebronnen van de band's muziek zijn Tool, Slipknot, Deftones, Smashing Pumpkins en The Defilted.
Met Our New Sin lijkt het alsof de mannen een rustige start nemen maar al snel komen de grunts, afgewisseld met een iets zuivere stem. Het einde wordt voltooid met cimbaal-werk op de voorgrond. Alvast een goed begin van het album. Unalive brengt idem als het voorgaande beide (er zullen er wel meer zijn) zangtechnieken ter oren en gaat de aandacht iets meer naar het snaarwerk en de verscheidenheid aan ritmes. Verrassend starten ze na beide stevigere nummers in Disappear met melodische/elektronische geluiden. Uit de zang (algemeen in het album) valt af te leiden dat er emotie in de teksten zit en de zanger die ook wilt meegeven. Het mooie en subtiele bij Chalklines is de inbreng van de piano, wat de sfeer van het nummer versterkt. Dit werken ze af met enkele Xylofoon tokkelingen. In het nummer Scars zitten voornamelijk elektronische invloeden. Een rustig begin ook voor het nummer Mirror Perfect Mannequin met gebruik van de piano en een stevig refrein. De melodische sounds treden op de voorgrond in het begin en op het einde van In This Moment. Inhoudsgewijs wordt er verwezen naar littekens, vermoedelijk gaat het om een verwijzing of vervolg op het nummer Scars. Het album afsluiten doen de Ieren met Last Breath, een stevig nummer vergelijkbaar met de eerste twee van het album. De titel duidt waar de teksten over gaan, alleen is het speculeren waarover de emotionele thema's net gaan.
De aanhoudendheid van het genre is sterk, alleen kan je in sommige nummers voelen dat ze in elkaar opgaan. Hoewel er veel variatie schuilt in gebruik van instrumenten, kan het soms 'hetzelfde' aanvoelen. Subjectief gezien is dit de reden waarom ik geen nummer kan benoemen dat er bovenuit springt. Niettemin hebben de mannen een leuk album uitgebracht en voel je dat ze goed op elkaar zijn afgestemd. De drum- bas- en gitaarslagen volgen elkaar mooi op en vormt een geheel.
Voor meer informatie kan je terecht op hun facebook pagina of de website raadplegen.
Release date: 6 juni 2016
Label: Wormholedeath Records
Tracklist:
01. Our New Sin (05:11)
02. Unalive (04:51)
03. Disappear (05:52)
04. Chalklines (06:11)
05. Hush (05:47)
06. Scars (04:53)
07. Mirror Perfect Mannequin (05:07)
08. In This Moment (05:29)
09. The Phoenix (05:03)
10. Last Breath (04:34)