I sat down with the Garage Rock band Backdoor Solution before their first gig. The guys are a cheerful bunch, who like to laugh. Even their name is chosen as a joke. But the band is no joke: during their first concert as an opening act for Banda Basura, they swept the public away with their enthusiasm and music. I sat down with singer Crozzy, rhythm guitarist Walter, lead guitarist Johan, bassist Max and drummer Glenn before their show.
First of all: Where does your name 'Backdoor Solution' come from?
(Everyone laughs)
Johan: Well, there's always a backdoor solution for everything…
Crozzy: Half of us came from another band. We didn't really agree on their choice of music and personal stuff, so we decided to take a backdoor on that one. So this was our backdoor solution.
Walter: The first plan was that we started another band. Beside the former band. I came up with 'It's a Backdoor Solution, it's a way out.'
Crozzy: Although it's free for interpretation
Glenn: Yeah, it really is.
Walter: Don't write that.
Max: Please do write that.
(Everyone laughs)
What kind of music do you play?
Walter: Rock and Roll, with some metal influences.
Johan: Garage Rock essentially, but it's hard to name your own genre.
Where did you get your inspiration as a band?
Crozzy: Everybody got their personal inspiration, we just mash it up and it turns out really well.
Walter: We just combine stuff: Johan is a lot into rock and roll, I'm a bit more into Metal. Max is a free player.
Max: A freak player.
Crozzy: Glenn and I like practically the same Metal and old school Rock 'n' Roll.
Who writes the songs?
Walter: It's especially Crozzy and me.
Crozzy: The music is especially written by Walter and Johan. Everybody pretty much writes their own part.
Max: Mostly it starts with just a jam and then we make the details in there and then we take one of Crozzy's lyrics.
Crozzy: I've got some spares. (laughs)
Max: The moment it makes a click and we're all feeling it, then we keep on making our music.
Where do you get your inspiration for the songs?
Crozzy: For the lyrics we get our inspiration from things in life, but also from imagined figures or situations that seem interesting to us.
Half of you are from the previous band. How did you meet the other half? Who is actually from the first band?
Walter: Johan, Crozzy and I are from the first band.
Crozzy: I know Glenn because he's in a choir with me. He had only recently started drumming, so we decided to give that a chance, to see where that would go.
Glenn: I started to drum about two years ago…
Crozzy: And now we can't stop him anymore
(Everyone laughs)
Glenn: We met Max through a common friend who told us: 'Hey! You're looking for a bassist, right?'
Crozzy: It was a bit of a blind date.
Max: I don't see a ring around my finger yet though!
(Eveyone laughs.)
Crozzy: Max, you greedy bitch.
Walter: Let's have matching tattoos.
(The band laughs again)
Are you guys looking forward to your concert tonight?
Walter: Oh yeah, it's been about ten months since we've been on stage with the former band.
Glenn: For me it's the first time with the band, so it's pretty exciting.
Do you have future plans?
Johan: Keep on making music and hope people enjoy it.
Crozzy: We hope to record some stuff. First make some money from concerts, and then use that money to invest equipment, studio time…
Max: But first: writing, writing, writing…
Crozzy: First the music, then the fame (laughs)
Is there anything else you want to tell me?
Walter: We'd like to open for Metallica! (Everyone laughs)
Max: If you could arrange that, no problem, we'll be sure to clear our schedules! Yes we can.
Crozzy: Because I can! That's probably the first song we'll be playing tonight.
What are you going to play tonight?
Walter: We've got about seven original songs and one cover.
Crozzy: That was one of the issues why we walked out on the previous band: they mostly played covers and we really wanted to express our own idea of music, so we started making our own.
(Shows setlist)
Walter: It's a very, very fancy setlist! (Everyone laughs)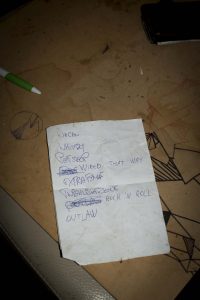 Thanks guys, and good luck tonight!
Enjoy the show!
The band gave a very lively show that evening. They made a couple of mistakes, which is forgivable for such a young band, but they were able to bring a great atmosphere. The singer and the other band members had a great contact with the public, and the whole room was dancing from start to finish.