Oops! Seems like I've arrived quite late on the battlefield, as this album already came out back in the summer of 2020. Oh, well. Screw it! I'm always up for some cheesy power metal with a fun concept and with plenty of references to epic movies such as Gladiator, Braveheart and 300.
Warkings is a band that's comprised of a Roman Tribune (vocals), a wild Viking (bass), a noble Crusader (guitars) and a martial Spartan (drums). Similarly to bands such as Lordi and Ghost, their real identities are shrouded in secrecy, and while I could attempt to do some extensive research, why would I want to spoil the fun of this concept?
'Revenge' is Warkings' sophomore effort, released almost two years after 2018's 'Reborn'. As with their previous release, the songs are all pretty straightforward and cheesy, yet also instantly catchy, with clean anthem-like vocals and choruses that you can sing along to after barely one listen. The simplistic lyrics about going to battle seem to have been copied from Manowar's discography, with the occasional famous quote taken directly from some of the aforementioned movies. I can understand how this might be off-putting to some listeners who are looking for something with a little more substance. However, I find Warkings' approach to be a nice reprieve from all the serious doom and gloom.
The album is off to a great start with the Braveheart-inspired 'Freedom', the awesome Gladiator-inspired 'Maximus' and the faster-paced 'Warriors'. The next three tracks are less memorable, but they do provide some welcome variety. On 'Odin's Sons' for example the four Warkings are accompanied by The Queen of the Damned. She provides harsh vocals that work wonderfully well in combination with the Tribune's clean vocals. The aggression takes a backseat on 'Banners High'. With its slow pace and its significantly lighter tone, this is basically the album's ballad.
Just as 'Revenge' seems to be losing steam in its middle section, the tempo picks back up considerably with the energetic 'Mirror, Mirror'. This track also contains my favorite guitar solo on the album. Next up is the Kingdom of Heaven-inspired 'Azrael'. I like how this song incorporates some Middle Eastern flavours, as it deals with the conquest of Jerusalem. The penultimate track 'Warking' features a military march that sounds suspiciously close to Rammstein's 'Links 2 3 4'. I'm not sure if this is intentional. With some versions, the album closes with 'Sparta' as a bonus track. This amazing anthem was already present on the previous album, but is given an upgrade here, with guest vocals by The Queen of the Damned instead of the original Mr. Debauchery guest vocals.
Warkings have delivered an album that features some pretty solid tracks, though not all of them are as memorable. I also would have liked some more instrumental variety and maybe a smidgen more lyrical depth. Therefore 'Revenge' isn't an album that I would retroactively add to my list of best albums of 2020, but it certainly deserves a spot as an honourable mention.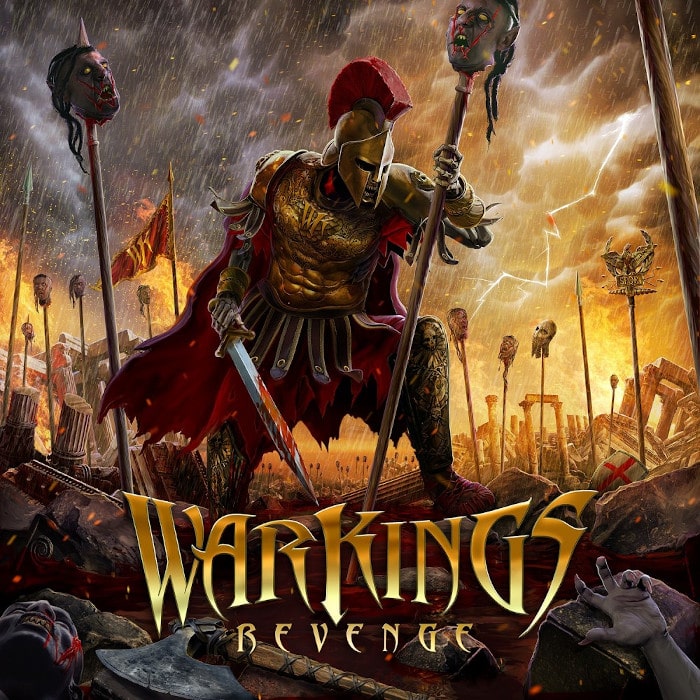 Release date: July 31st, 2020
Label: Napalm Records
Tracklist:
Freedom
Maximus
Warriors
Fight in the Shade
Odin's Sons
Banners High
Mirror, Mirror
Azrael
Battle of Marathon
Warking
Sparta (bonus track)