Het gebeurt niet alle dagen dat we er een avondje op uit trekken om onze zinnen te verzetten, maar in plaats daarvan naar huis terugkeren met een kop vol vragen, om daarna wekenlang te moeten zoeken naar de juiste woorden om de avond te beschrijven. Op 21 maart kregen we met deze situatie te maken. Geprogrammeerd stonden in Het Bos: The Mary Hart Attack, Ashtoreth en Oranssi Pazuzu. We geven toe dat we daar een beetje een sprong in het onbekende hadden gewaagd, maar we laten ons nu eenmaal graag verrassen.
The Mary Hart Attack was de eerste band die vragen opwierp. Hoe kan een band die zo'n goeie new wave/post punk speelt met zo'n bescheidenheid op het podium staan dat het bijna een minderwaardigheidscomplex lijkt? En de muziek enkel verkrijgbaar op tape? Beste mensen van The Mary Hart Attack, willen jullie als de bliksem die zalige muziek op cd zetten zodat we die ook mee naar huis kunnen nemen? Dit is 2016, hallo?
Ondanks het dubbel gevoel dat we aan The Mary Hart Attack hadden overgehouden, voelden we ons goed in ons vel. We hadden zelfs een ingetogen danspasje gewaagd, ons daarbij afvragend hoe deze band op dezelfde affiche was kunnen belanden als Ashtoreth en Oranssi Pazuzu. Het verband bleef ons wat duister.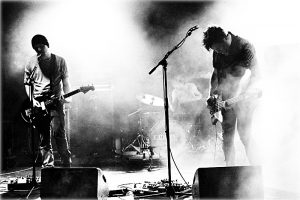 Duister… Dat was het idee dat we eigenlijk hadden over Ashtoreth, het solo-project van Peter Verwimp. Misschien was dat een vooroordeel. Terwijl de man het zich gezellig maakte op een stoel vooraan het podium, gingen mensen in de zaal spontaan in een halve cirkel zitten. Alvast die achterban van Peter wist beter dan wij wat er komen zou en bereidde er zich op voor. Eens de kaarsen aangestoken en de wierook richting zaal geblazen, ging het licht uit en begon Ashtoreth aan zijn vertolking. Stemmen, gefluister, onbestemde klanken… Ashtoreth bediende zich enkel van zijn stem, zijn gitaar en een pak pedalen en effecten. We luisterden aandachtig en probeerden tevergeefs op dezelfde golflengte af te stemmen. Was dit de intro? Dan duurde die wel erg lang. Neen, muziek was dit niet, dit had meer weg van een meditatieve sessie in besloten kring.
Pas op het moment dat we die klik maakten en in plaats van te wachten op wat niet zou komen, gewoon het geheel over ons heen lieten zakken, werd ons de kracht duidelijk van wat Verwimp aan geluid produceerde. We waanden ons in een bos bij maanlicht en hoorden hoe de bomen klaagden. Vol van pijn, verdriet en teleurstelling probeerden ze ons met de moed der wanhoop duidelijk te maken hoe slecht het gaat met moeder natuur. De natuur lijdt en de mens is de de oorzaak. Het geweeklaag van de bomen leidde een visioen in dat ons altijd zal bijblijven, telkens wanneer we nog bij avondlicht in een bos zullen ronddolen. Het duurde een hele poos vooraleer we onszelf terugvonden in de concertzaal die al dan niet toevallig ook Het Bos heet, en we ons realiseerden dat we tussendoor ook nog moesten proberen enkele foto's te maken. Verwarring was ons deel.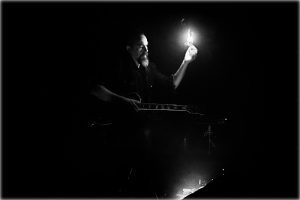 Toen iemand uit de entourage van Ashtoreth me na afloop vroeg wat ik ervan gevonden had, antwoordde ik dat ik daarover moest nadenken. Dat ik in ieder geval geen muziek had ervaren maar iets anders waarvoor ik nog een woord moest zoeken. Naar dat woord heb ik 20 dagen gezocht. Het is neuromuzikale hypnose. De overdracht van zieleroerselen via klanken die op het onderbewuste inwerken. Dat wetende mogen we Peter Verwimp in zijn hoedanigheid van Ashtoreth gerust zien als een gids. Een geest die niet alleen receptief is voor wat de natuur hem vertelt, maar die dat alles ook nog eens kan doorvertellen, op zijn eigen manier. Een schakel tussen de bron van het leven en de mens, die het vermogen om direct met deze bron te communiceren heeft verloren.
Bon. Een mens zou al eens voor minder fronsen op een maandagavond. En dan kwam Oranssi Pazuzu. We hadden er ons intussen al min of meer bij neergelegd dat er zich in het hoofd van één man een zeer complex proces kon afspelen dat had geleid tot de sjamanistische vertolking van Ashtoreth. Nu stonden daar vijf Finnen op het podium eigenlijk identiek hetzelfde te doen, maar dan daarenboven nog eens op elkaar afgestemd. Hoe surrealistisch kon het worden? Hoe konden vijf mensen op hetzelfde kanaal afstemmen en toch tegelijk zoveel chaos voortbrengen? We bekeken de mensen in de zaal eens en zagen hoe ze opgingen in hun trance. Ons bevattingsvermogen ging het in ieder geval te boven. Alweer vinden we 'muziek' niet het toepasselijke woord.
Wat een complexe avond. Een hoofd vol met vraagtekens. We besloten dan maar om onder de wol te kruipen in de hoop dat de antwoorden wel vanzelf zouden komen.