Bands, festivals and the lot are releasing branded booze by the dozens these days. Or people get inspired by bands and the overal metal, rock,… culture to create alcoholic beverages as a tribute.

GRIMM makes it its mission to get to the bottom (of the bottle) of this trend with insightful reviews and extra backgrounds. So sit back, PICK YOUR POISON, and discover all you need to know about your favorite band's alcoholic brands!
Poison Fact Sheet
(ABV = Alcohol By Volume; IBU = International Bittering Units)
Tasting
When pouring the beer, a light layer of foam is to be seen at the top, which disappears rather quickly. The beer itself is slightly hazy and has the typical gold/yellow color you'd expect from a lager beer.
After the pour, we picked up a rather floral or even soapy smell, which is possibly present due to the barley malt used in the creation of the beer. Overall, it gives it a quite distinct aroma.
When actually tasting the beer, we get a very light flavor. It's actually rather plain and even a bit watery. All the flavors come down to a very typical lager with a slightly malty and sweet touch. Despite the rather unsurprisingly run-of-the-mill flavor, the beer is actually quite refreshing and would work well as a beer at any metal concert or festival.
Packaging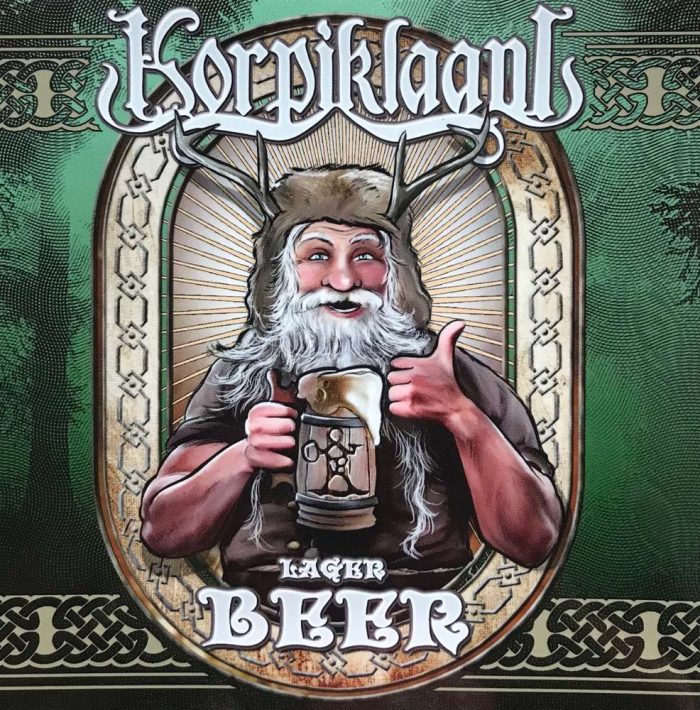 The packaging of the beer is quite straightforward but at the same time fitting with Korpiklaani. It gets sold in white cans of half a liter with a label that shows the drawing of the old man (Vaari) who has been featured on several album covers, holding up a big pint of beer with the shaman Korpiklaani logo and a big "thumbs up". The artwork also comes back on the album they released a while back on which a bunch of different artists cover their metal party classic 'Beer Beer', so it seems all connected that way.
GOES BEST WITH…
What else than the Korpiklaani party song classic 'Beer Beer':