Band: Metallica
Poison name: Enter Night
Poison Style: beer – pilsner
ABV: 5,7%
IBU: 45
Brewery: Arrogant Consortia (San Diego, California, USA) – Stone Brewing subsidiary or Stone Brewing Berlin (Berlin, Germany)
(ABV = Alcohol By Volume; IBU = International Bittering Units)
A few years ago around 2015 Budweiser released a little under a 100.000 cans which featured Metallica's name and an artwork in the style of their Ride The Lightning album. But that was just a Budweiser on the inside. We had to wait up until the end of 2018 before the biggest metal band on the planet released its own official beer. They teamed up with no one less then the Arrogant Consortia/Stone Brewing to create a hoppy pilsner. Now the Enter Night cans are hitting shelves in Europe and we are curious to taste if this commercial beer is just another gimmick like AC/DC's German pilsner or if it's worth the attention of headbanging beer geeks worldwide.
Tasting
The cans pour a light golden blond beer with a white, strong adhesive head. The aroma is rather dusty and malty with only whiffs of grass and citrus in the back with the cans we got straight from California, the fresher European version from Stone Berlin smells exactly like that: fresher.
The body is light with medium carbonation. The grassy and light citric touch return in the flavor. The malts have a sweet side to it. Nothing too pronounced, however, as what hits you next is from a completely different level. We get a very hoppy, bitter finish, especially for a pilsner. It definitely has an American character to it, but with the typical aggressiveness we know from Stone's brews and specifically Consortia's Arrogant Bastard Ale.
The dry crisp aftertaste wakes you up and makes you take another sip, making it an easily drinkable pilsner despite its stronger 5,7% abv. Because of that aggressiveness present and it not taking over the beer completely at the end, we're pretty sure this will please both craftbeer lovers and those who are new to the scene or those who just want a refreshing beer while banging your head to some good old metal.

Packaging
Enter Night only comes in cans or on draft. The cans are kept rather simple featuring a standard black background and the iconic Arrogant Bastard's face. Instead of his casual posture holding a beer, we only see his head up close, making it instantly recognizable as a Stone/Arrogantia beer.
However, just the face in between two speakers blasting out some 'Tallica tunes feels rather dull to us. The soundwaves from the speakers hint to Metallica's music with in between the lightning bolts an M on the left and an A on the right stylized in the band's classic logo. That same logo is imitated on the top where Enter Night is written in big metallic letters.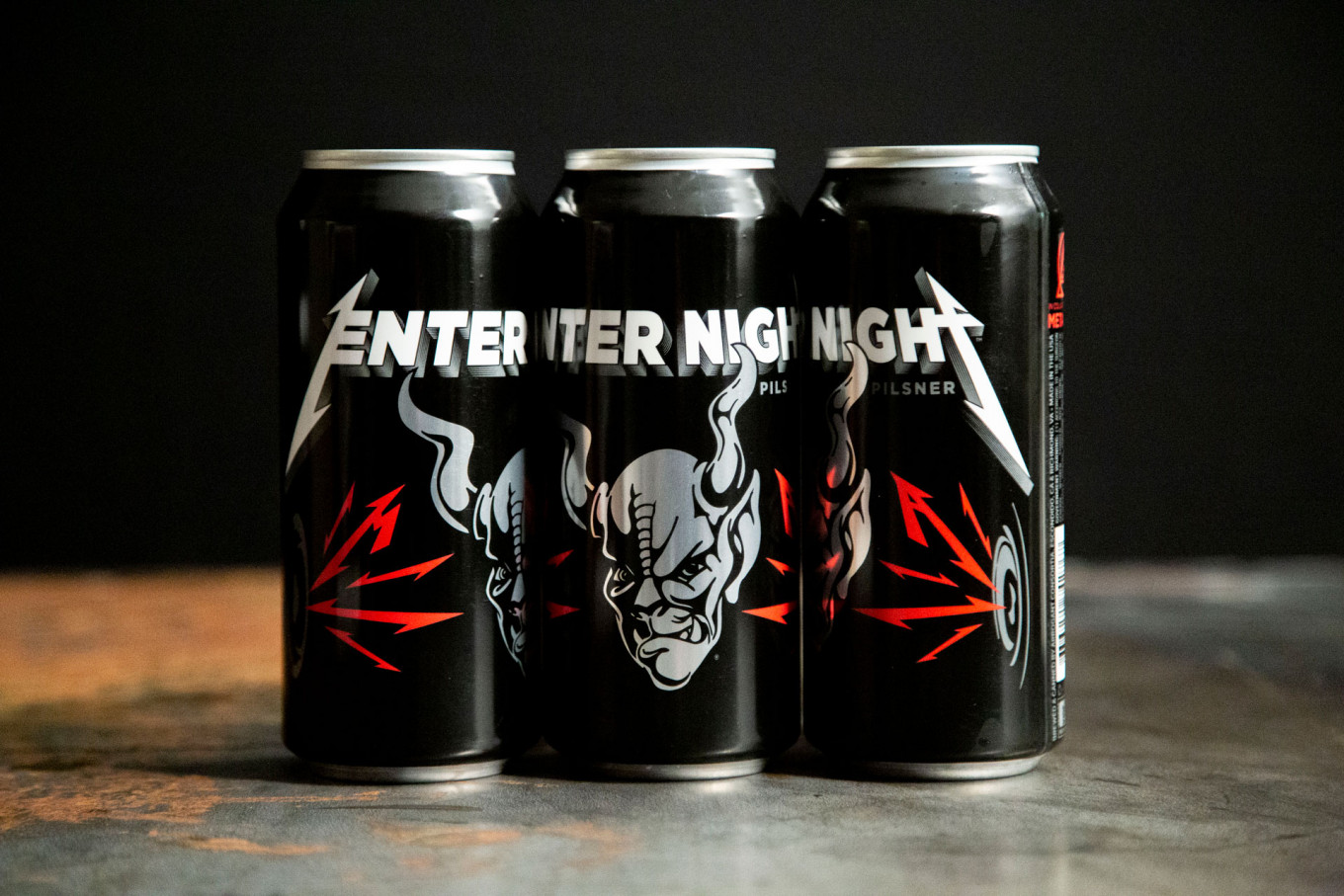 On the side of the can we read more info about the collaboration by Arrogant Consortia:

In collaboration with Metallica, this beer represents the cataclysmic collision of two uncompromising supernatural forces. It's a crisp and refreshing Pilsner that, much like the band, transcends genres, shatters preconceptions and challenges convention. It's on. It's time to get started. To crank things up. To get loud. That thumping you feel in your chest isn't your imagination. It's your heart. It's life. It's the rockin' tunes. It's your inspiration wanting to break out. It ain't gonna sit there waiting, so motherfucking grab it. This is a collaboration in the truest sense between two entities that were born on the fringes. We've navigated life from a different perspective. We imagined things differently from what they were, and set about using our art to change the world according to our vision. We started being misunderstood by many, and loved by few. Today that's the same…but that 'few' has become 'more'. A LOT more. That's you, my friend, and we're stoked you're with us on this journey. The day is winding down. It's time to get started. No more waiting. It's time to get LOUD. It's time to Enter Night.
We can however appreciate the second version of the cans that has been made for the Stone Brewing – Berlin brewed beers a bit better. This can sports the same artwork, but this time sideways placed. It also has a more finished and professional look and feel to it, with the slightly rough mat black on most of the can expect where the shine of the aluminum can pops through in the logo and beer name.
Its being printed straight on the can instead of the wrap label of its American counterpart and also the top of the can being painted black adds to the level of badass. It's still very simple with only a few small references to Metallica, but we can imagine it attracting many metalheads for the cool and tough look and feel of the package.