A smooth guitar and a singing violin open the new album by Shadygrove. This is followed up by the rest of the band and the clean vocals of Lisy Stefanoni. Giving you the classic folk vibe with a 'calm' touch to it. Calm in the sense of dancing calmly on the melody and not folk where you get hyped up by the beat and jump around. For some reason, this album gives you a soul smoothening feeling. Though it's hard to describe exactly why that feeling rises up. The harmonies that are being heard have definitely something to do with that feeling.
Another feeling that comes to mind is 'loving'. It feels like the music wraps its arms around you and softly moves you from the left to the right. Like a mother who rocks a baby. Maybe 'soothing' is the right word to match the music's soul. Also when you look at the album cover, it shows this motherly image of a woman sitting in the woods, or better said: scarlet woods, sitting on her knees looking over a sleeping fox.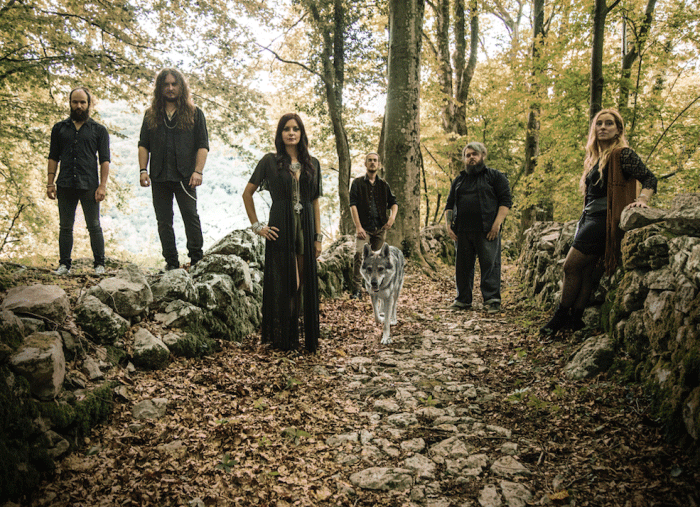 Lisy Stefanoni, here the 3th person form the left, is also known as the lead singer and flutist of Evenoir. Elena Crolle, here on the right, is also known as the keyboard player for Sound Storm. Lethien, here the 2nd from the left, also known as the violinist from Elvenking. Evenoir and Elvenking are folk metal bands, while Sound Storm is a power metal band.
'In the Heart of Scarlet Wood' talks about the heart of the woods. A very smooth album, with different feelings coming up. An album to relax. An album to remove all bad thoughts or feelings that you might have.
Release date: April 6, 2018.
Label: Rockshots Records
Tracklist:
01 Scarlet Wood
02 My Silver Seal
03 The Port of Lisbon
04 Eve of Love
05 This is the Night
06 Cydonia
07 Northern Lights
08 Let the Candle Burn
09 Queen of Amber