Battle Beast is back with their 5th album 'No More Hollywood Endings'. This Finnish heavy metal band has been on their way to the top since the beginning. Their previous album 'Bringer of Pain' hit the charts by being number 1 in Finland and number 14 in Germany, and it attacked the charts in countries they've never been before. I'm sure 'No More Hollywood Endings' is going to top that for sure.
The heroic sound blast from your speakers right after first song 'Unbroken' comes up. 'No more Hollywood endings', as in nothing ends perfect, but that doesn't mean you should give up. That's the message of the album in one sentence, but there's so much more.
It's so pure. Every note, every strum, every beat, … you can almost hear it right here in your living room. This makes the record so addictive and also makes the volume button go to the highest stand.
This album has so many different sides. It has power. For example in songs like 'Eden'. It has synths, a techno element in it on songs like 'The Hero'. There are cliche songs, which for one reason aren't annoying but make perfect sense on the album like 'Endless Summer'. And then of course, there is the iconic sound of Battle Beast together with voice of lead singer Noora Louhimo. She has a raw and powerful voice, which is perfect for vocals that reach down to flesh and blood.
Compared to their previous album 'Bringer of Pain', this album has more pop elements in it. The internet has been commenting to singles ' 'No More Hollywood Endings' and 'Eden' that it "needed more beast", that it was catchy and all, but that it lacked power. I disagree. Yes, this album has more pop in it and yes, that makes some of the songs sound "less heavy", in terms of less distortion on the guitars. But it definitely has beast in it. The beast can be found in the combination of different music elements what makes this album so pure. Some songs do have more distorted guitars and can, by these terms, be called beast. I get where the point of other fans comes form, but to me, heavy is not only in distorted guitars. It's also in the recording itself and in the use of different elements to compose a song. In that case, this album is very heavy.
'Battle Beast have a shiny new skin and we're going to present it with pride. With music even more empowering, theatrical and emotionally charged, this is going to be the most exciting adventure for Battle Beast listeners since we started. Just wait until you experience the new material live. Come and see how the BEAST has been born again!'

Says Noora.
Conclusion: If you only want distorted guitars, then this album is 50/50 for you. If you want to hear the art of composing and the use of different elements that are mastered by the band, then this album will most definitely touch you.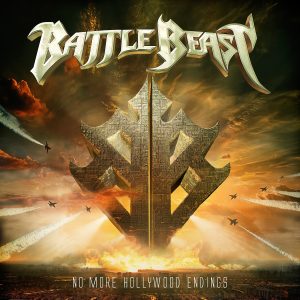 Release date: March 22, 2019.
Label: Nuclear Blast
Tracklist:
01 Unbroken
02 No More Hollywood Endings
03 Eden
04 Unfairy Tales
05 Endless Summer
06 The Hero
07 Piece of Me
08 I Wish
09 Raise Your Fists
10 The Golden Horde
11 World on Fire