Our first time at the biggest metal festival in the country of metal Finland is definitely one to remember. We wrote a little coverage of our experiences. Enjoy!
[tabby title="Intro"]
Tuska Open Air is presently located at Suvilahti, a former power plant turned into an event hall/area with signature chimneys and round steel construction (featured in the Tuska logo), located about 3 km from Helsinki center and brings a great atmosphere to it. Besides the open air Radio Rock main stage and Helsinki stage (in a tent this year), there's a very atmospheric smaller third Inferno stage put in one of the power plant buildings.
There are several bar areas with really cool special bars like for instance a Valhalla bar (with Finland's answer on Jägermeister) and the Famous Grouse whisky and cocktail bar. Even food lovers are in for a threat with sushi, smoked BBQ and the lot. If that's not enough there's a more fancy restaurant vibed "Black dining" where you can choose from several dishes with something black in it.
There are also tons of little things to discover throughout the festival area, like a small market where you get served by corpse painted employees, pinball machines at some locations and even a friggin' sauna (well, we are in Finland after all) and free laundry service…
And you can always count on the interesting characters that show up at the festival to entertain you with their crazy outfits, corpse paint and stories.
If the day feels too short for you with last notes of music played at the stroke of midnight on Friday and Saturday and 9 pm (!!!) on Sunday, you can always travel to the center for one of the official after parties at Bar Bäkkäri or Virgin Oil Co. with quite nice bands performing every day.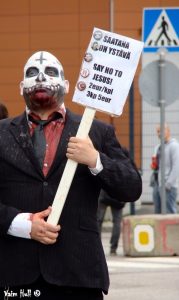 To read about how it was at the official pre-party "Tuska Heatseeker", go to the "Thursday" tab…
[tabby title="Thursday"]
To get everyone into the proper groove for the festival, there is Tuska Heatseeker for people to enjoy with 3 promising and upcoming Finnish bands/legends. The first edition of this pre-party was held at the infamous Tavastia Club, one of the oldest European rock music clubs still in use. In this setting where many Finnish bands (like Hanoi Rocks, The 69 Eyes and HIM) took their first steps to rise to fame, Shiraz Lane, Lost Society and Santa Cruz showcased their skills to get us hooked.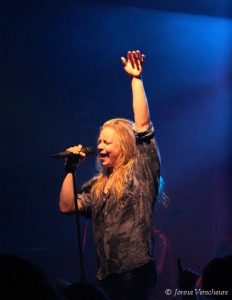 Local underground stars Shiraz Lane got to open the night and had quite an enthusiastic (female) crowd in front of them. They play the kind of hard rock that was clearly inspired by the eighties, but also by rock legends like Led Zeppelin and co. Even though they have a certain glam sex appeal to them, they're all about bringing across a message of love and peace. Hair going wild, guitars in the air, straight jackets and even bubbles as a finish makes for a great rock gig. Young as they are, if they continue on this high level, they're definitely a band to keep an eye on! If you want to know more about this upcoming and talented band, be on the lookout for our interview with them.
Next up in line were the thrashers of Lost Society. I knew their music on beforehand, but somehow for me personally the raw power from the records didn't come across as well live. There were a few songs that kicked ass, but there wasn't anything memorable really. I noticed that mostly the thrasher fans present kept up the energy up and going.
Headliner of the night was Santa Cruz, a band that is very much stooled in the eighties hard rock as well, but with a thick sauce of heaviness. They already went around in the world quite a bit and were ready to take over the stage and hearts of the crowd present. They started off maybe a bit slow, but they brought some of their powerful rockers quite soon. The heat definitely got turned up quite a bit and sweat started trickling down every spine. Overall, the first Heatseeker seemed like a great success to me. I'm already looking forward to the next editions…
To what the first official festival day was all about, go to the tab "Friday"!
[tabby title="Friday"]
The first performances of the day by American death metal greats Cattle Decapitation and Dutch female fronted Delain we missed. But I gathered that Delain's singer Charlotte Wessels and guitarist Merel Bechtold won over quite some souls in a country with some of the biggest symphonic metal bands in the world.
We still caught most of the first of 3 sets by Finnish melodic death/doom metal band Swallow The Sun. They focused mainly on the music of the first album of their latest 3 CD release and the sound they got big and well-known for. The guys put down a great gig again bringing some guests on stage here and there. I maybe missed some of their "hits" like for instance Hate, Lead The Way, but still definitely a great gig by a talented band. Even though the fact that they played on the main stage in the blistering sun didn't really help bring the proper atmosphere for their dark and gloomy sound. If you weren't up for their not so happy music, during their performance you could go to the smaller Inferno stage to go nuts on the Lebanese Blaakyum. We personally didn't get to see them, but they're definitely worth mentioning.
Setlist:
With You Came The Whole Of The World's Tears
10 Silver Bullets
Rooms and Shadows
Heartstrings Shattering
Silhouettes
The Memory Of Light
Lost & Catatonic
From Happiness To Dust
The Womb Of Winter
The Heart Of A Cold White Land
Next up on the main stage were the monstrous hard rockers from Lordi. They must have died a little bit on stage, standing straight in the afternoon sun. I'm kind of impressed that they didn't suffer from a heatstroke or something like that, especially with the added heat of their pyro. They played all the hits from their numerous releases and brought quite an ambiance standing in between their tombstones and church walls. Mr. Lordi himself wielded a firework spitting battle ax, grinded on some metal delivering quite some sparks while wearing his butcher's apron on Rock The Hell Outta You, took out his sleeping hat and bag of feathers on Blood Red Sandman and brought a smoking skull and smoke-shooting shrunken head on stage at a certain point.
The creepy show had a great finish with breakthrough hits Would You Love A Monsterman? and Hard Rock Hallelujah. Bringing out all the stops by confetti papers shot in the air and taking his Finnish flag hat known from their Eurovision stint from under the dust.
Setlist:
SCG3 Special Report
Bringing Back The Balls To Rock
Get Heavy
The Kids Who Wanna Play With The Dead
Biomechanic Man
Pet The Destroyer
Rock The Hell Outta You
Blood Red Sandman
It Snows In Hell
Who's Your Daddy?
They Only Come Out At Night
Devil Is A Loser
Would You Love A Monsterman?
Hard Rock Hallelujah
After the last tunes of the hard rock monsters faded away, we quickly moved to one of my personal favorites: Norwegian Kvelertak with their infectious black 'n' roll music. I knew on beforehand that savage man Erlend Hjelvik and his companions always bring the energy levels to new heights with a steamroller of a performance. And they definitely fulfilled the promising rumors at the Helsinki stage. During the first song Dendrofil For Yggdrasil (from their latest release Nattesferd, for review click here) Erlend was sporting an mask representing their owl "mascot" which brought quite an atmosphere to start with. As soon as he got rid of his mask, it seemed like all of his demons got unleashed at once.
There was not a single moment that Erlend stood still, jumping around, banging his head, spitting in the air and walking/crowd surfing on his fans on several occasions. Besides him, most of his colleagues brought quite an energy to the table as well. During the high paced songs like Mjød, Blodtørst and Berserkr the crowd clearly fed of that energy and broke into quite a moshpit. And to top it off, during closing song he went to get a huge Kvelertak flag to wave around (and leave on one of the guitarists at the end). One of my personal highlights of the weekend for sure!
Setlist:
Dendrofil For Yggdrasil
1985
Mjød
Nattesferd
Blodtørst
Evig Vandrar
Ulvetid
Berserkr
Spring fra livet
Bruane Brenn
Kvelertak
On the main stage thrash legends Testament geared up for what was probably a great gig. But we opted to go see the lesser-known Man With A Mission on the Inferno stage, a -for some people maybe weird- band operating from Japan, looking like men with a wolf's head. Earlier this day we had a fun and interesting talk with vocalist/guitarist Jean-Ken Johnny (that will appear on our site soon) and we just couldn't miss out on this gig. They play a blend of numerous musical styles like heavy metal, punk rock, nineties' alternative rock, hip hop and electronic music. For me they brought back the vibe of those alternative bands of the nineties that I love so much. It was kind of a pity that at first the sound didn't seem to be fine tuned enough which caused it to come across a bit noisy. But they clearly were ready to conquer the stage, win over Tuska and from there the rest of the world. They jumped around and danced every possible doubts anyone present might have away. I can't wait to possibly see them on a much bigger stage with a much bigger production some time in the future.
Setlist:
database
WELCOME TO THE NEWWORLD
distance
Take What U Want
Get Off of My Way
FLY AGAIN
It clearly was a good call to put Polish blackened death metal giants Behemoth on the Helsinki stage. The darker surroundings of the tent definitely worked in favor of their show. We missed their performance, but many called it the show of the weekend by playing The Satanist completely added with some other songs. The band is always ready to bring some spectacle with some fire and here also black (they're still a black metal inspired band, you know) confetti papers shot through the air.
Headliner of the day was Tobias Sammet's project Avantasia and their very first Finnish concert. The charismatic German brought with him some very skilled musicians and vocalists to bring a true majestic 2 hour long rock opera. As backing vocalists there were Amanda Somerville and Herbie Langhans, who each got their own little moment to shine at Tobias' side with songs Farewell and Draconian Love respectively. Next to that, Tobias brought along as usual an impressive list of great vocalists: Jørn Lande (Masterplan, Jørn), Ronnie Atkins (Pretty Maids), Michael Kiske (ex-Helloween, Unisonic), Bob Catley (Magnum) and Eric Martin (Mr. Big).
After the band came on stage on the tunes of Strauss' Also sprach Zarathustra, better known from 2001: A Space Odyssey, they settled into the highly catchy Mystery of a Blood Red Rose, also the opener of their latest album Ghostlights. This was basically the only song that didn't bring another guest vocalist on stage, from second song Invoke the Machine with Ronnie Atkins on, there was a never-ending stream of guests. Tobias and his friends stood on stage with a very lose vibe and that was just great fun to see. The showman made a mistake by introducing their second song with "And this is the title track of our new album, called Ghostlights!", stopping the band after only a few notes, apologizing for the mistake with "Finland! Am I drunk or are you?! I'm not supposed to be drunk, it should be you!".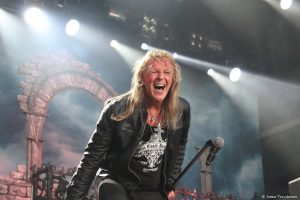 After finishing Invoke the Machine, he introduced the next one in line with tons of self-mockery: "Sure you have no idea what song will be next. Just for you, Helsinki, the title track to the new album!". Kicking in Ghostlights with Michael Kiske brought an early highlight to the stage, brought to greater heights by Avantasia (with a Kiske hopping back on stage with a "I thought I was finished already!").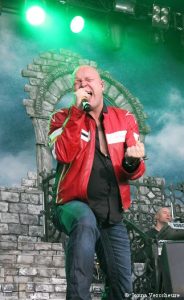 The relaxed performance went on with a more mellow rock stint with Bob Catley (great voice!) and about halfway Tobias left the stage for about 2 songs during which Eric Martin and Ronnie Atkins brought Twisted Mind and backing vocalist Amanda sang a duet with Michael Kiske (Farewell). They finished off strong with an all hands-on-deck finale epos Sign of the Cross/The Seven Angels, blowing the crowd's mind. What a performance this was! If you get the chance to catch them somewhere nearby at a gig, don't hesitate.
Setlist:
Also sprach Zarathustra
Mystery of a Blood Red Rose
Invoke the Machine (ft. Ronnie Atkins)
Ghostlights (ft. Michael Kiske)
Avantasia (ft. Michael Kiske)
The Great Mystery (ft. Bob Catley)
The Scarecrow (ft. Jørn Lande)
Promised Land (ft. Jørn Lande)
Dying for an Angel (ft. Eric Martin)
Twisted Mind (Eric Martin & Ronnie Atkins, without Tobias Sammet)
Farewell (ft. Amanda Somerville & Michael Kiske)
The Story Ain't Over (ft. Bob Catley)
Reach Out for the Light (ft. Michael Kiske)
Draconian Love (ft. Herbie Langhans)
Let the Storm Descend Upon You (ft. Ronnie Atkins & Jørn Lande)
Sign of the Cross/The Seven Angels (everybody on stage)
If the first day got you interested in the rest of the days, go to the next tab "Saturday"!
[tabby title="Saturday"]
Due to other obligations we missed the opening act by the Finnish vikings Brymir and only arrived when Primordial finished their set. Shortly after, Norwegian black metal band Tsjuder, set up shop in the Helsinki stage tent. Where we could see vocalist/bassist Nag with "FAG" painted on his stomach as a -I presume- reference to the LGBT event Helsinki Pride held that same weekend. Not sure what the thought process was there.
A band we were looking forward to very much this weekend, was Finnish Turmion Kätilöt. Their music is the very infectious kind of industrial metal with electronic music and other styles infused in such a way that metal suddenly sounds and feels like a party. We regularly heard the term "disko metal" coming from Fins around us. They definitely know how to get the crowd going, even the foreigners who didn't understand much of the all Finnish texts went bananas on their music. Despite the many rumors of their crazy gigs with gimp suits, quite some nakedness and similar silliness, it seemed like a rather "behaved" performance. I guess the clear daylight of the main stage wasn't really fit for those kind of things…
The corpse painted singers and kiss-inspired makeup wearing musicians set up some pyro and released quite some black EMP beach balls to be bumped around by the crowd on their only English track on the setlist: Grand Ball.
But honestly they didn't need anything more than that. I was lucky enough to have someone in the neighborhood to translate some of their joking around in between songs to get quite some laughs. Like MC Raaka Pee was walking around on stage with crutches which caused him to joke that he was allowed to make bad jokes, playing with the Finnish word "puujalkavitsi", literally translated "wooden leg joke" or bad joke. They also sort of referenced to the Helsinki Pride event happening that same weekend by introducing Pirun nyrkki (Satan's fist) with "Right! Let's do some fisting!". And Spellgoth's dance moves on stage were absolutely awesome.
I can't get enough of these crazy fuckers and can't wait 'till I understand more Finnish.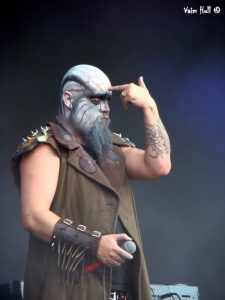 Setlist:
Kirottujen karnevaalit
Grand Ball
Hyvissä höyryissä
Minä määrään
Sinä saatana
Pimeyden morsian
Pirun nyrkki
Teurastaja
Tirehtööri
Pyhä maa
Suolainen kapteeni
Lataa ja varmista
The technical death metal of Obscura sounded real good from a distance, but we didn't get the chance to see much of their gig since we had a backstage talk with Spellgoth and Bobby Undertaker from Turmion Kätilöt. On our way back to the festival area, we passed quite a line of people waiting to get into the building of Solmusali stage, to enjoy the Swallow The Sun acoustic set they won a ticket for through a raffle. Second CD of their latest release: check. Due to problems with transportation, Havok couldn't make it to Tuska on time, so Lord Vicar switched with them to an earlier slot. This gave us the chance to get a little taste of the Finnish doom greats (with remnants of Reverend Bizarre) after all.
The next big gig a lot of people were clearly looking forward to (looking at the many band shirts of them walking around and the long line at the signing session), was Anthrax. As one of the "big four" of thrash metal, you can be sure of quite an ass-kicking performance. But since I've seen them several times already, we turned towards the gig on the smaller Inferno stage by Jess And The Ancient Ones on the advice of my editor-in-chief (and Spellgoth during our talk). We definitely were not disappointed! For about 45 minutes it seemed like I traveled back in time to arrive in the sixties and early seventies. Jess coming on stage in a long flower-printed dress and a tambourine hanging from her one arm was already a big hint on what was coming. As soon as the music started you got sucked in by the psychedelic (hard) rock. And when Jess opened her mouth it felt as if you were witnessing some kind of ritual, much like it probably was when you went through a gig by The Doors or Janis Joplin (not so surprising since their voices sound very similar in power and timbre). If you like the well-known Swedish band Blues Pills, I'd advice you to give Jess and the Ancient Ones a try… for me personally the discovery of the weekend!
A band I was eager to see was Finnish household name Stam1na. The reason  -besides really liking their music- was the fact that being in Finland is basically the only way to get to see them (for now). They were received with a lot of enthusiasm by a wild (mostly) Finnish crowd. Stam1na didn't let that go to waste and immediately kicked off full blast ahead with one of their older songs, quickly followed by Pienet vihreät miehet from their latest release Elokuutio (for our review click here). It felt like the guys simply wanted to flatten the tent by a bombshell of a performance. All of them dressed in the same orange overalls, windmilling their hair around 80 mph, standing legs spread with a light show backing them up that was so allover and busy that I heard a lot of photographers curse.
It was simply a great, face-melting gig in which I could find no flaws. My wish if being able to sing along to a live Pala Palalta came to fruition and I left the tent a happy man! As a big fan of Devin Townsend and all of his creations, you would have liked it very much as well I'm sure. In the interview I had with some of the guys earlier that day they mentioned that they always love to play at Tuska and you could see this clearly through their happy and relaxed state of mind during the gig. It felt like they were at home and having fun with some mates.
Setlist:
Uudet kymmenen käskyä
Pienet vihreät miehet
Panzerfaust
Elokuutio
Luova hulluus
Meidänkaltaisillemme
Mätä hohtava omena
Ristiriita
Masiina
Pala palalta
Kuudet raamit
Kaksi reittiä, yksi suunta
And then there was the moment tons of people at Tuska on saturday had been looking forward to: the ritualistic black mass that is a performance by Ghost. It was very noticeable that quite a chunk of the crowd that day were at Suvilahti for them, on a regular basis you came across people dressed up as nun or something like that. This day was even sold out, I'm guessing that besides the awesome sunny weather, the headliner of the day had a lot to do with this. One thing is sure: you can never go wrong with Papa and his Ghouls.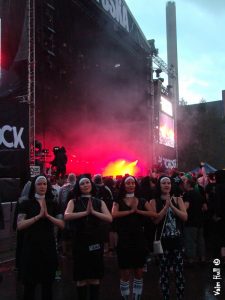 As usual, the concert got started with the atmospheric Miserere mei, Deus by Gregorio Allegri and during that intro I discovered 4 Finnish EMP-girls that seemed to audition as "Sisters of Sin". Also, coincidence or not, the rain that had been plaguing us since Stam1na somehow faded away. Quite soon the 5 Nameless Ghouls appeared one by one under loud applause and cheering. Once all of the masked men were on stage the haunting organ tunes of Spirit soon kicked in with Papa Emeritus III showing up in his pope outfit after the intro. And from then on the showman took control of the stage and the crowd and never let go supported by his Ghouls.
Of course Papa soon took out his incense burner to bless us in unholiness and the music was damn heavy, tight and riddled with catchy hooks. The new look of the Ghouls is my favorite to this point with their horned masks and stylish robes and I love how "Wind" (keyboards) always stands with his back straight and hands clasped behind his back when he has nothing to do.
About halfway the performance Papa disappeared for a short while to reappear in his more modern looking new outfit. With slick black hair and no hat, a more tight fitting coat he really looked like a different person.
It's like they wanna make clear that Papa Emeritus III is completely different from the robe wearing former incarnations. This Papa is way more flamboyant, loosened up and fun than the more theatrical other versions of him. During Absolution Ghost dollars got shot in the air and when Ghuleh/Zombie Queen started, the rain suddenly picked up again. The addition of the rain somehow made the whole show even more epic. One thing I maybe missed a little bit was the moment where some local "Sisters of Sin" come on stage to serve the communion, but I guess at a festival that's a bit too much of a hassle.
When the whole unholy service was about to end, Papa asked the crowd who had been to a Ghost concert before. He picked out one of the few members of the crowd who hadn't and told the person that there is something they need to know: the fact that they end every single gig with the same song. As a Ghost fan, I knew already that Monstrance Clock was coming. But the unholy man continued to lecture his "class" on the why of always closing with the same song.
He started talking about how the female orgasm is seen in some backwards societies as from the Devil. He then compared a Ghost concert as a long session of fucking that they wanna close with an orgasm. And "since we've been fucking in the rain for the past hour and a half, we deserve an orgasm, don't you think?". I can't repeat word for word what he said, but is was a highly entertaining and funny bit. The stage and crowd exploded one last time in what you indeed could call the orgasm of the evening during the song. Festival organisations that haven't realized this yet: Ghost is a headliner spot on a main stage worthy, they're clearly ready to take over from the oldies!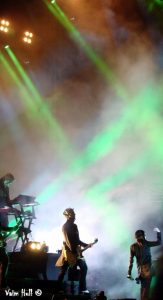 Setlist:
Miserere mei, Deus (Gregorio Allegri song)
Masked Ball (Jocelyn Pook song)
Spirit
From the Pinnacle to the Pit
Stand by Him
Con Clavi Con Dio
Per Aspera ad Inferi
Devil Church
Cirice
Year Zero
Spöksonat
He Is
Absolution
Mummy Dust
Ghuleh/Zombie Queen
Ritual
Monstrance Clock
Host of the Seraphim (outro)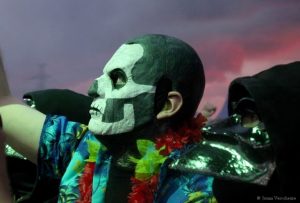 Go to the "Sunday" tab to see what more they served us on the last day of a great weekend!
[tabby title="Sunday"]
On Sunday we arrived at Tuska with the sound of Block Buster's mix of hard rock, heavy metal and rock 'n' roll. The locals, we learned they were friends of Shiraz Lane, sounded pretty good even from a distance. They seem like a promising group of young artists.
The first artist we properly went to see was Myrkur, a black metal project from Danish popstar Amalie Bruun. Most metalheads have probably at least heard about the project by now and there's a lot of controversy surrounding her creation. So much that apparently the more seasoned photographers were warning people for possible bottles and stuff being thrown at the stage. But they didn't need to worry: the crowd got enchanted by the mesmerizing and almost angelic appearance of Amalie. And the voice coming from her almost seemed to come straight from higher planes than our own. The atmospheric black metal music was a perfect fit to those vocals.
The beautiful frontwoman moved her body like a hypnotizing snake and threw some scary stares towards the crowd on a regular basis. After the first song she moved from her keyboard to the awesome looking dual microphone stand made from a white bleached branch. The two mics served a distinct purpose: the one on her right she sang clean through.
But when she switched to the one on her left side all hell broke loose and she released some demons through her harsh vocals you wouldn't have expected coming from her almost frail looking body. The metal fans that are so much against what this woman has been doing, should give it another thought, cause the whole project and live portrayal of it is damn impressive.
Setlist:
Den Lille Piges Død
Hævnen
Onde børn
Jeg er guden, i er tjenerne
Mordet
Dybt i skoven
Skøgen skulle dø
Skaði
Song to Hall Up High (Bathory cover)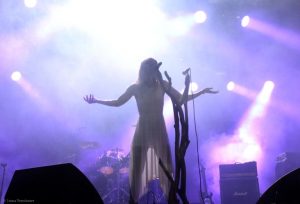 Most of the set of American hardcore band Hatebreed we missed due to an interview with Jaska Raatikainen from Children of Bodom. But what we saw of it was the same old relentless hardcore/moshcore set like we know them for. The pouring rain didn't hold anyone back, not the band and definitely not the crowd. We saw quite some fans jump and mosh around in the huge puddle that formed itself in front of the main stage.
One gig I really looked forward to was the first Finnish appearance of the Brazilian ladies of Nervosa. After getting to review their latest release Agony (for the article click here), I became quite a fan. They got a spot on the smaller Inferno stage with a set of just 30 minutes. They released one thrash metal bombshell after the other on the crowd and we loved it! If there's one thing they're not lacking is power and a set of heavy metal balls many guy could be jealous of.
The ever thankfull frontwoman and bassist Fernanda Lira looks very friendly and joyfull inbetween songs, but as soon as the riffs kick in she turns into an absolute beast! She really knows how to get the crowd going. Next to her there was guitarist Prika Amaral who knocked out damn heavy and powerful riffs and technical solos like the best in the business and her backing growls sounded like there was a jaguar on stage with them. And I don't want you to forget about drummer Pitchu Ferraz, who drums like a frickin' machine and had her own little moment to shine with some Brazilian samba rhythms. Fernanda mentioned inbetween two songs that they'd love to chat more with her fans, but there was no time for chitchat because of the shortness of the set. Just uttering the words, they got held up by some technical difficulties that luckily got solved quickly.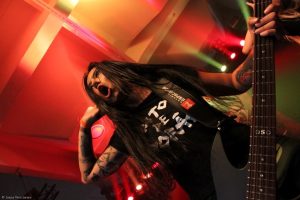 They closed their set with the highly powerful Hostages from their latest album and the all-obliterating Into Mosh Pit, which fittingly created a moderate mosh in the small venue. They thanked their fans many times again, telling us to go have a look at the official merchandize stand for their shirts and promising us to come down there for a short meet and greet. Really great people, a definite positive addition to the music industry. Please people, check them out, support them and organizers: give them a higher up spot so they don't have to rush through their set! If you want to get to know more about Nervosa, we had an interview with them some time ago, click here.
Setlist:
Death!
Hypocrisy
Theory of Conspiracy
Surrounded by Serpents
Twisted Values
Intolerance Means War
Arrogance
Guerra Santa
Failed System
Cyber War
Hostages
Into Mosh Pit
On the main stage the French Gojira stood like house like always. The guys looked almighty and strong bringing their groovy but at the same time complex death metal songs. A special mentioning of Jean-Michel Labadie (bass), who brought the energy of the gig to another level by jumping and twisting around like the incarnation of the Tasmanian Devil!
I must say that for playing on a festival they made the good decision of playing mainly old songs with just a few songs of their new album Magma (for review click here). By doing so they blew the figurative roof of the house, though I'm looking forward to see them play some more of their awesome new work at an indoors venue some time soon. If you wanted more doom and gloom, you could head towards the Inferno stage where Swallow The Sun played the entire third CD of their 3 CD Songs of the North release with a focus on their doom metal project.
Setlist:
Toxic Garbage Island
L'Enfant Sauvage
The Heaviest Matter of the Universe
Silvera
Stranded
Flying Whales
Wisdom Comes
Backbone
Terra Inc.
Only Pain
Oroborus
Vacuity
Near the end of Gojira's set, the ladies of Nervosa showed up at the merchandize stand as promised. So we head there to have a short talk with the friendly Fernanda and her crew and to get a pic with them. So great that they actually made the time to meet with their fans!
As the cherry on top of what was already a great weekend, local legends Children Of Bodom played a home match at Tuska. The stage was fitted with a row of yellow oil drums at the front, a backdrop with the I Worship Chaos artwork with the familiar COBHC (Children Of Bodom Hate Crew) letters in front. They played a great mix of old classics and songs of their last release. With regular bursts of fire out and in front of the oil drums they easily turned up the heat even more.
During Lake Bodom they gave Janne Warman (keyboards) some rest by bringing Laiho's good friend Netta Skog (Ensiferum, ex-Turisas) to play her accordian. She definitely brought some sun on the stage with her great smile and happy pressence.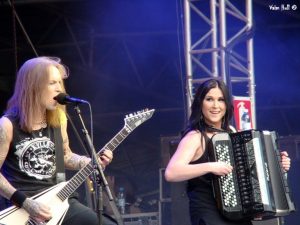 A special mentioning of their new guitarist Daniel Freyberg, it's like he's always been with the guys and I'm looking forward to his input in the future.
But of course it wouldn't be CoB without the crazy popular Alexi Laiho: he jumped all over the stage, regularly put down his signature "vertical guitar during solos" move and just clearly had the biggest fun in the world. And with the "Wild Child" the whole crowd went wild as well, every generation present!
Once CoB got announced as headliner for Tuska, people quickly wondered what special little thing they would bring on stage. Last time they headlined at Tuska they had a little BBQ with their pyro, so what would it be this time? They let us guess for it 'till the very end of the gig. The closed their set with Downfall and Laiho said his thanks "but don't go yet, we still have a little surprise!". The band went offstage and some crew guys ran onstage to put 3 lines of micstands at the middle back of the stage. Laiho came back onstage wearing a fedora and no shirt (the ladies were happy!) and announced to have a little party still with us to finish in style. They kicked off their encore set with CCR cover Lookin' Out My Back Door.
After that song Laiho said "You probably wondered already what's with all the mics here onstage? Well, we brought some friends along!". And suddeny the 2 backlines got filled up with a guest vocalist choir of members of quite some of the better known and also upcoming Finnish bands like Mokoma, Kotiteollisuus, Stam1na, Stratovarious and so on. We also recognized drummer Ana and bassist Joel from our friends of Shiraz Lane. Together they cranked up the party vibe a touch higher with the Ramones cover Somebody Put Something In My Drink.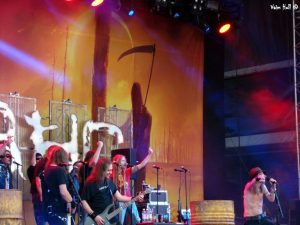 And if you thought that was all they had for us fear not… Suddenly Netta Skog came back onstage and with her came along Havok vocalist/guitarist David Sanchez.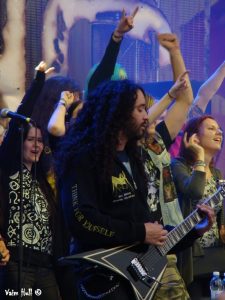 But hey, what about the empty front row of mics? Well, Laiho decided -whether it was going to get fucked up or not- to invite 10 fans from the crowd on stage to have a go at Ghost Riders in the Sky. And of course they pulled out all the stops with fire spewing and firework exploding from the roof of the stage. Simply the best way Tuska could've been closed down, what a celebration of heavy music!
Setlist:
Follow the Reaper
In Your Face
Morrigan
Trashed, Lost & Strungout
Hate Me!
Lake Bodom (ft. Netta Skog)
I Worship Chaos
Angels Don't Kill
Silent Night, Bodom Night
Hate Crew Deathroll
Children of Decadence
Downfall
Encore
Lookin' Out My Back Door (CCR cover)
Somebody Put Something In My Drink (Ramones cover ft guest choir)
Ghost Riders in the Sky (Stan Jones cover ft. Netta Skog, guest choir & fans)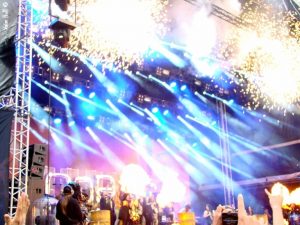 After CoB left the stage, the hosts of the 3 stages showed up together one last time to thank the crowd and artists for an epic weekend and invite them to still have a drink at Tuska or the afterparty at Bar Bäkkäri. And to tease us for next year's edition: "We promise you to blow your mind even more with the great things we're planning for the jubileum edition of their 20th edition!" I can't wait… see you in a year again on the grounds of Suvilahti!
Curious what went on at those "after parties"? Go check it out in the last tab!
[tabby title="After Parties"]
Since Tuska usually ends its days sort of early and we're really close to the center of Helsinki, they have the great concept of officially endorsed afterparties. That way every night there were some more (mostly Finnish) bands sort of added to the lineup.
On Friday thrash/power metal outfit Ikinä and the popular (looking at the amount of band shirts of them that day) alternative/death metal band Medeia climbed the stage at the legendary Virgin Oil Co. And on Saturday they cranked up the party definitely with a trio of industrial/elektro infused metal/metalcore by Ember Falls, One Morning Left and Fear Of Domination (reminding me somewhat of Turmion Kätilöt)!
At the same time on friday at Bar Bäkkäri (with an awesome wallpainting of some of the international and national giants of metal and rock sitting in the "last supper" setting) power metal band Burning Point, and melodic death metal band Bloodred Hourglass set the stage on fire. On a little sidenote: it was great to notice members of other bands hanging around and have a good time in the middle of all of us! On Saturday Swedish heavy metal/glam rock Toxicrose and modern hard rock/heavy metal locals of Limelight Showdown tried to match the party that was going at the other venue that night. On Sunday there was only one afterparty for all of those that didn't have enough yet of their Tuska weekend. That night you could get your fill of symphonic power metal by Arion, and melodic female fronted metal from Evil Drive. Every night also got finished by a set of metal and hard rock music by DJ H138!
[tabbyending]
For more pics by Vaim Hull (click here for day 1, here for day 2 and here for day 3) .
If you feel like you want some music while reading this article or go through pics, GRIMM Gent has made a playlist (see below or this link) with music of bands from the Tuska 2016 line-up!