MOVIE DETAILS
Title: 3 from Hell
Director: Rob Zombie
Cast: Sheri Moon Zombie, Bill Moseley, Richard Brake, Sid Haig
Genre: horror
Publication date: September 16th, 2019
Runtime: 115 min
Production company: Lionsgate, Spookshow International
Writer/director Rob Zombie returned to his beloved franchise about the Firefly family with this third (and final?) installment. 3 from Hell came out in September 2019, almost 15 years after its predecessor, The Devil's Rejects. The story picks up right where The Devil's Rejects ended, so beware of spoilers if you haven't seen that movie yet (which you definitely should!). Did Rob Zombie succeed in delivering a worthy sequel? Or is this a case of too little too late? Read on and find out!
The film begins in May of 1978. Somehow, Baby Firefly (Sheri Moon Zombie), Otis Driftwood (Bill Moseley) and Captain Spaulding (Sid Haig) have all three miraculously survived their last stand with the police. After their capture, the 'Devil's Rejects' receive nationwide coverage from the press as they recover in the hospital, stand trial for their crimes and are sentenced to life in prison. Captain Spaulding is eventually executed via lethal injection. All of this is presented to us in the first ten minutes of the movie through news reports and media coverage.
The rest of the movie takes place in 1988. Otis Driftwood escapes with the help of his half-brother Winslow Foxworth Coltrane, a.k.a. 'The Midnight Wolfman' (Richard Brake). Together they devise a plan to sneak Baby out of prison by kidnapping the warden's family and friends. Once reunited, the three criminals decide to flee to Mexico, since their faces are instantly recognizable in the USA. They soon discover though that trouble has a way of finding them, even across the border.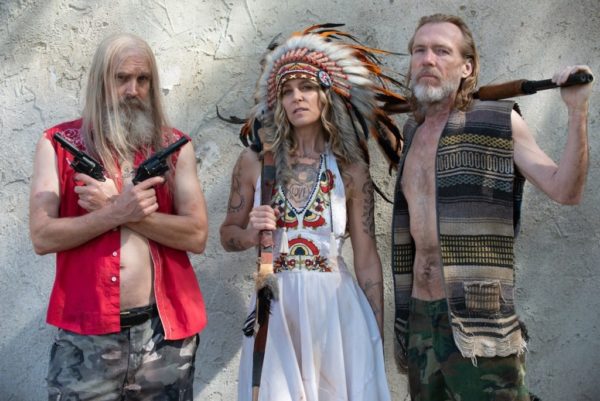 While 3 from Hell is very similar in tone to The Devil's Rejects, it's also quite an inferior sequel. Sure, it's nice to revisit this depraved world and to see these familiar characters back again after so many years. Unfortunately, Rob Zombie couldn't really find a compelling story for them to return. The movie also had a much smaller budget than its predecessors. This is very noticeable during certain action sequences featuring cheap looking CGI for blood, bullet wounds and fire.
The movie also suffers from an excessive runtime and some pacing issues. Particularly in the first half of the movie, where it just drags on at times. Certain scenes of Baby in prison, or scenes involving the warden's kidnapped family, could have easily been cut out or trimmed down to make for a better paced experience. It does get better though, once the three main characters are reunited. The second half in Mexico is also slightly more entertaining.
Bill Moseley and Sheri Moon Zombie slip effortlessly back into their demented roles as Otis and Baby. The character of Captain Spaulding was supposed to have a much larger role in the movie. However, due to Sid Haig's deteriorating health, Rob Zombie was forced to do some major rewrites to his original script. He decided to introduce a brand new character to fill in the void. Richard Brake fits right in as a member of the Firefly family, but he's no match for Sid Haig's charismatic Captain Spaulding. We only get one short scene with an incarcerated Captain Spaulding at the beginning of the movie, before the character is executed off screen. Sid Haig himself passed away on September 21st, 2019, less than a week after the movie's release.