Bands, festivals and the lot are releasing branded booze by the dozens these days. Grimm makes it its mission to get to the bottom (of the bottle) of this trend with insightful reviews and extra backgrounds. So sit back, PICK YOUR POISON, and discover all you need to know about your favorite festival's alcoholic brands!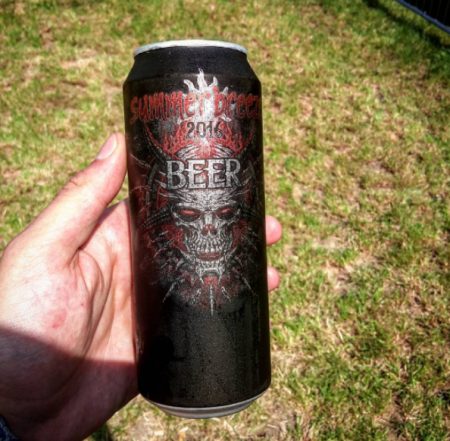 Poison Fact Sheet
Poison name: Summer Breeze Beer 2016
Poison Style: Pilsner - German
(ABV = Alcohol By Volume; IBU = International Bittering Units)
After our review of Langharig Tuig (Van Moll) it is time to present another festival beer. This year's Summer Breeze (16-19th August) promises to be an intense edition with bands as Amon Amarth, Heaven Shall Burn, Megadeth, Kreator and many more. In between all that intensity it is important to think about refreshments. Therefore, Summer Breeze advertises its very own Summerbreeze beer!  
Tasting
Important note! We managed to get our hands on some Summer Breeze beers last year and so our tasting experience was with the 2016's edition of the cans. We don't know if the festival did some changes to this year's edition.
After pouring it in a glass the Summer Breeze beer produces a decent white head with active effervescence in the glass. The first smells are spicy and grass aromas, typical for the Hallertau hops from the region of the Haller Löwenbräu brewery. Summer Breeze beer is very refreshing and with a crispness to it it that must taste heavenly on hot festival days. The carbonation comes late on the tongue and is quite gentle. The beer has a typical taste of German pilsner, but I would definitely place it among in the higher ranges of this long brewing tradition. I especially liked its light citric touches with and the oily bready character. In the end you can still enjoy the nice long lasting aftertaste.
Since there is little information available from either Summer Breeze or Haller Löwenbräu brewery my best guess is that this beer is similar or maybe even identical to the Haller Löwenbräu's Edelpils served on the festival grounds. This pilsner beer runs down smoothly and is therefore finished before you know it.
Of course this beer was tasted and tried in the comfort of my home. It has not been tested to be also festival-proof. Maybe we should have tried another one in festival conditions: lukewarm at the tent and straight from the can.
Packaging
The 2016 packaging is as metal as it can get. The front shows a skull with fire and blood red tints around it. While other cans would have a description of the beer or the brewery, this can presents a list of the bands playing at Summer Breeze 2016. For this reason this particular can might become a collector's item for fans since it is very likely that next year's edition will be released with a different artwork and of course new names.
Grab your chance to try this beer at this year's Summer Breeze! The 2017 cans can be pre-ordered through this link. They accept orders until the 11th of August.
Fun to know - this year the festival also distributes its very own spiced rum. We doubt we will be able to get our hand on one of the limited 666 bottles so grab yours if you can!