The rumors went around that the new Amaranthe album was going to be a blast and that I was about to be blown away. So, I came prepared, but not prepared enough.
The first song 'Fearless' starts off with a soft tone. You are waiting for the power to be unleashed. Then, after 20 seconds: boom. Amaranthe is there with their classic sound. Synth, distorted guitars, 3 iconic voices and blasting drums. The feeling of superheroes fighting crime is born and it will not leave you until the end of the album.
Speaking about 'boom', there's a song called 'BOOM!1' on the album. I thought it was a spelling error, but they recently released a video for it and it has the same spelling. Why? I'm not sure yet. Maybe to show you that they were so fast they actually typed the 1 instead of the exclamation mark? I mean, it is on the same key after all.
The song itself also starts slow and then it'll invade your personal space when it's yelling 'Everything starts with a BOOM!'. Then, the already famous first sentence of the song will attack you. No music under it, just the pure scream voice of Henrik Englund saying: 'Hold on! Let me put my shades on!'. And yes, they embraced this sentence in the video as well while slaughtering zombies. This pretty much sums up Amaranthe: Awesome music with humor and respect.
One very powerful song on the album is 'Strong'. A song sung with lead singer Elize Ryd and Noora Louhimo from Battle Beast. Music wise, this is not your most distorted song. But lyrical wise, I think we can all learn something form this. Especially, in these times. Let me quote the chorus for you here. The rest is yours to discover.
I am stronger than I've ever been
Watch me now, I'm drowning in the deep
It's a burden, I'm not alone here
But it's so quiet since you're gone
I know one day I will be again
Strong
Both women also have the perfect, powerful voice to get the message across for this song, this hits hard.
'The Game' is another song that got stuck in my head right away. It's fast, it again takes perfect turns between the 3 singers and the harmonies between them. Another song in style of the classic Amaranthe formula. This reminds me: This album will probably not be your cup of tea if you weren't a fan of their previous albums. Amaranthe uses their classic sound, but on each and every album they step it up another notch. So you should absolutely listen to this album if you want to hear some absolute gems and if you're into the melodic metalcore with synth and pop elements.
Next song 'Crystalline' is totally different from the other songs on the album. It's the power ballad of the album. It's not losing its base, yet the way how it is performed is totally different.
The song to close the album is another one with a super powerful message and with the original version, a video that turns that message into an image. 'Do Or Die' is originally sung together with Angela Gossow, former singer of Arch Enemy, who we haven't seen in the vocalist role since about 2011. The version on the regular album however, is a reinterpretation by Nils and GG6 on vocals. The version with Elize and Angela handling the vocals, you can find on the album editions with bonus tracks. The video going with that one shows Angela and Elize together on an island where they are the only ones alive. They are retrieving dead dolls representing people from the woods while wearing gas masks. They are trying to survive whatever is terrorizing them. 'We can only change if we do or die', the song says. At the end, Elize, Angela and lead guitarist and keyboard player Olof Mörck walk into the sea and disappear while a wave splashes water over them. You would think there's nobody left on the island. Yet there's one boy standing there with a shirt saying 'Break the routine'… I think we all know what it means but like the song says: we all know, yet nobody does something about it.
To summarize everything, this album has you nailed to your speakers from the first note to the last one. It got me jumping from song to song because I was so excited to discover them all as fast as possible. Like I said before: Amaranthe uses their classic formula for making songs, but each time they do it better and better. So these songs are an awesome collection to add to their portfolio. It's an album with a lot of energy, a lot of fast and powerful songs that make you feel like you can handle the world again. Overall, the band is telling you to get up and fight, even though it's hard right now. This message is perfectly visualized in their video for their song 'Viral'.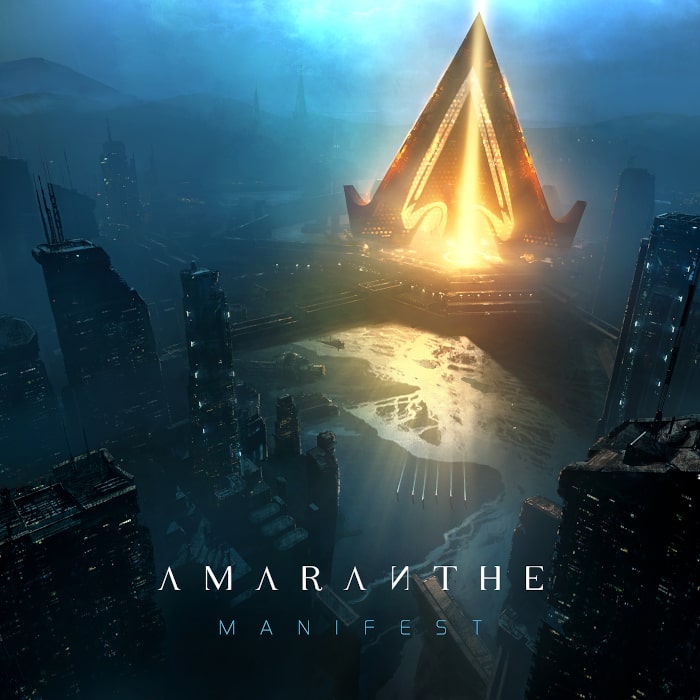 Release date: October 2, 2020
Label: Nuclear Blast
Tracklist:
Fearless
Make It Better
Scream My Name
Viral
Adrenaline
Strong
The Game
Crystalline
Archangel
BOOM!1
Die and Wake Up
Do Or Die