With their latest album Transcendence in the backpack, Devin Townsend Project are kicking off their European tour in Antwerp. We had the chance to have a quick chat with Devin himself. The soundcheck took a little bit longer than foreseen, but after a while we got finally the opportunity to meet the music genius himself, looking a bit exhausted from the flight and the accompanied jet lag. Most of the fans will already know that Devin also has written a book 'Only Half There', when it was asked to sign it he started talking about it that it was quite an adventure to get this done, "I am so proud of doing this and it makes me feel so good that people take the time to reading it."
Hi Devin, how are you?
Good man, and you ?
Good, good. So tonight the European tour is starting , are you ready to kick some ass ?
Well man, I am all stoked about it, but you know, for now I have to remember how to do it. It's all about trying to changing gears man. You go from one life to another and the first days are hard because you forget there are people that come out to listen. We are so used to be in the rehearsal room and with family, so if you're coming out on tour and there are people that care, it's bizarre, it's not that I dislike it, it's just that you have to change your frame of mind and that's what I am at today. Just remembering how to do it, I will be out there for 11 months, so that will be a challenge for sure.
The responses to the album Transcendence has been tremendous. How does that affect the future of Devin Townsend Project?
Well, it makes me wants to continue it. It's like the band got really good I think and it's taking us many years to understand each other. When we first started we got like videos playing all the time on stage and now we don't, now it's more "The Band". In the beginning we got a lot of backing stuff happening, but now we got keyboards. It's like now we are like a real band and there's a lot of potential for it , they are very much into it. And it's a very good band, it's like everybody in the band is a solid person and they're healthy too, everybody eats well, exercises, don't do drugs, maybe some weed or so (laughs) but no cocaine or hard stuff.  You know, I am 44 now, if I have to do it now, it has be to clean and because it is, there's a good future for it.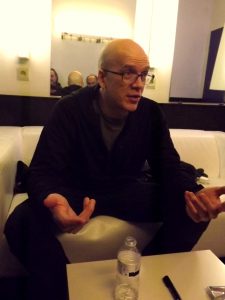 On this album there was also more room for contributions of the other band members. Will you continue working this way?
There will definitely be more contributions of  the other band members in the future. The ways we are interacting with each other are so interesting and there is room for it to grow even more. On the record I wrote the majority of the stuff and then we got together and made it what it is. There could even be that there will be songs only written by the other band members, like on Addicted! the song Way Home was Ryan who came with that, so I think I am at a point where if it's a good song, it's a good song, I'd like to be able to decide that I guess.
There was this rumour where you have recorded a version of the Vengaboys' We like to party, with Annie and Ché Aimee Dorval…
Yeah, you're right, I just love that poppy music from that time frame , it's so well made, It has so much nice melodies, much potential. For the moment we can't really release it but you know I really wanna do an album with all these songs, like YMCA and so,  so if I have the ability to do such an album we will for sure include that song.
After this tour what are the next steps to make, you're doing some summer festivals and some special shows I heard…
We are doing some summer festivals, which will be an extension of the Transcendence tour, there is still much life in this record so it will be no best of, but more Transcendence concentrated shows, we've only done two tours on it and we will be hanging on that for the next year, we have also two Ocean Machine gigs coming up, in UK and the Bulgarian exploit in September. The Bulgarian concert was in fact an idea of the management, our manager has got a lot of ideas of that kind. Apparently it will be with an orchestra, our music lends itself good to use an orchestra, like we are already using it a lot in our songs, it's not like Metallica who just added choirs. If the orchestra is really into it there is a possibility to maybe adapt the stuff and see how far I can go with it. but don't expect that the show in Bulgaria will change a lot to the already existing songs .
Another project we heard of is that you're composing a symphony. How is that going ?
Yes, the symphony is something that is on my mind, so this show in Bulgaria is a nice thing to experiment with it. I am still writing on the symphony, I don't know really for the moment what will come out, I've made some demos but the character still has to be defined, I've been writing for so many years so I am just trying to do something new. So this will be recorded in the Galaxy Studios in Mol (Belgium), I went there, talked  to the guy who does the orchestration, it's just such a brilliant studio it's going to be fun, so we will see you then. It will happen I think in a year and a half or so, it's a large project and I don't want to rush it, I mean, for 20 years I have been rushing everything, everything is rush rush rush, so being able to not rush it's a beautiful thing to do.
You see yourself more as a workaholic or just somebody who loves what he's doing and just cannot stop?
I don't see myself as a workaholic , I just have to work a lot. Well I enjoy doing it but it's not that I let everything else in my life suffer from my musical work, I am always trying to do everything, but I enjoy my life, I guess work is just a part of  it, with the type of music I write I have to keep it moving. It's not commercial, so I don't have a lot of options to sell my music to car or diaper commercials, maybe that's what I have to do: sell music to Pampers, Shitstorm (from the Strapping Young Lad era)  would be nice  (laughs).
Is there any music you are listening to these days?
I listen to a lot, I have Spotify so that's always on, I like Kendrick Lamar, Anderson Paak, it's like hip hop, which is not my style really, but I think it's really brilliant. I listen to a lot of quiet music like there's an Argentina lady, Juana Molina, who is just great, you have to check her out. And also electronic music, deadmau5 for example, mostly things I don't do, so I don't have the feeling I am competing with them or have to analyze it, just listen and find it cool.  In terms of heavy music, not that too much, The Swords new album is great and Sepultura's new record is really good .
I've heard you started to use "Kemper" also for your guitar, weren't you more an "Axe-Fx" man?
I've always use Axe-Fx , and still use it but on this tour I started to use Kemper. It's good man, I am a guy who just wants amplifiers to be better than these things. With stuff like Kemper, it lacks for sure some things compared to the real amplifiers, like presence and body, but the character is there for the stuff that I do. So it's  disappointing because in my mind I have these thoughts that I have to use a tube amp and it will be much better, but it's not. Currently it sounds good, so I don't feel the need to switch back to tube amps. So in terms of purism, like I am a gear purist, I just use computers nowadays (laughs). And it's easy to use, I don't have a pedal board onstage anymore. Everything is controlled via a laptop with the tempo set and when there should be changes made in the guitar effects or sound I use, it just happens. So very easy man, just concentrate on playing on the stage, no more tap dancing .
You have also a "Framus Warwick" custom gutiar, will there ever be consumer models of these?
Yeah, there will be, in fact, the recent version is not the last version, last week I was at the NAMM show and worked on the final version and it's as good as perfect, so there will be two more prototypes so I can be 100% sure. They will be produced in China but assembled here in Europe. I think the price tag will be around 1100, it will be great. Unfortunately there will be no 7 string version of it, I just play one 7 string, but it's just a gimmick for me, I have friends who play really good these 7 strings but for me it's just like going dooooh (laughs) so I don't feel the need for making 7 strings of it.
Ok man, thx for the chat, good luck with the show tonight.
Thx dude, see ya.