Tijdens het verlengde weekend van Hemelvaart, op zaterdag 7 mei, vond de vijfde editie van Headbanger's Balls Fest plaats in Kachtem, Izegem. In zaaltje 't SOK startte omstreeks 14u30 een -veel te warme- dag van het beste gitaargeweld dat België en omstreken te bieden heeft. En als kers op de taart slaagden ze erin om Evergrey te boeken als headliner voor een exclusieve Belgische show.
De thrashers van de Westhoek, Turbowarrior of Steel, hadden de eer om het fest af te trappen. De "zwins" waren er duidelijk klaar voor en aan subtiliteit hebben ze geen boodschap. Volle gas vooruit met andere woorden, de titel van hun nog niet zo lang geleden album Full Throttle Turbothrash is duidelijk niet zomaar een paar catchy woorden! Hierdoor slaagden ze er al vroeg in om het publiek aanwezig in beweging te brengen. Een wall of death (Squirt Alert), moshpit, polonaise (Polonaise Pit) en een Dr. Zoidberg waardige crab walk (Crabwalk) door één toeschouwer passeerden allemaal de revue. Met songs over het geliefde gerstenat, lichamelijke escapades en de onnozelheden veroorzaakt door overmatig inname van alcohol werd het al snel een feestje dus. Prachtige band om de mensen op te warmen voor de rest van de dag.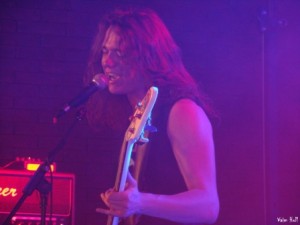 Setlist:
Intro
Toxic Waste
Squirt Alert
Polonaise Pit
One Eyed Stan
Crabwalk
Chicken (Fight For Your Right cover)
Cher ami
Turbotwist
Keep Thrashin'
F.T.T.T.
Alsof het nog niet heet genoeg was, besteeg Wildheart het podium duidelijk vol goesting. De groovy en bluesy sleaze/hard rock die ze ten toon brachten, vond duidelijk heel wat gewillige oren en liet enkele oude knarren de jaren tachtig opnieuw beleven. De invloeden van bands zoals Mötley Crüe, Whitesnake en co lagen er vingerdik op, maar er was geen kat in de zaal die hierom ook maar iets gaf. De catchy riffs en refreinen, bluesy melodieën en verschroeiende gitaarsolo's raakten een snaar bij iedereen aanwezig. Door de hoge zang van Farty deden ze me zelfs regelmatig denken aan Guns 'n Roses. Wat nog eens extra onderstreept werd door de looks en guitar skills van Juice: de Vlaamse Slash is geboren! Enkel een hoed ontbrak nog om het plaatje compleet te maken…
Setlist:
On The Run
Lovehunter
Get Up (Fight Back)
On My Way
(solo)
Beautiful Regret
Save Me
Stone Cold Fox
Never Let Go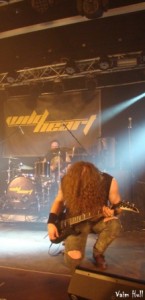 Derde band van de dag, Fields Of Troy, trakteerde ons op een heftig optreden van een wat zwaardere kwaliteit dan voorgaande. De beukende gitaren, stevige drums en zangpartijen creëerden een mix van melodische death en thrash metal die de zaal nog dichter bij het kookpunt bracht. Enkele passages deden me zelfs denken aan metalgiganten Trivium. En tijdens hun optreden ontstond de tweede wall of death van de dag die zeker niet mis was (zie de GIF hieronder). Dit is zeker een band om in de gaten te houden! Ik start alvast met hun nieuwste album Hardship.
Setlist:
Intro
Chapel of Hate
Ablepsia
Sting
Cold Eyes
Copper Shores
402
I'm Broken
Static Flow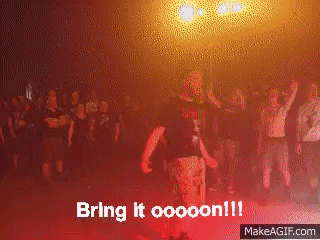 Up next: nog een uurtje thrash van hoge kwaliteit met Guilty As Charged. Ze worden regelmatig vergeleken met Metallica, wat zeker geen gebakken lucht is. Het geluid van deze relatief jonge band ligt heel dicht bij de goeie oude thrash van weleer en werd duidelijk met veel energie en overgave gebracht. De grijns die regelmatig op het gezicht verscheen van zanger/gitarist Jan gaf aan met hoeveel plezier de mannen op het podium stonden. De sterkste nummers van hun nieuwste album Leap of Faith waren present op de setlist. En als kers op de taart speelden ze ook nog een instrumentale cover van Beat It, wat onmiddellijk een glimlach op mijn gezicht toverde. Het was dan ook over het algemeen een lekker strak optreden.
Setlist:
Intro
Preach
Last Chance
Metal Holocaust
Leap of Faith
Lack of Control
(solo Dempsey)
New
I'll Never…
Pay The Price
Down
Beat It (Michael Jackson cover)
Angels
Lone Wolf
Spoil Engine is een melodische thrash- en deathmetalband die nogal eens durft te neigen naar metalcore. Nu, het maakt niet uit in welk vakje je hen wil duwen, één ding is zeker: ze hebben het kot afgebroken met hun optreden! De set was een bom en hun nieuwe brulboei Iris Goessens wist de zaal te betoveren met haar afwisselend emotioneel geladen melodisch gezang en imposant geschreeuw/gegrunt. De kwaliteit van de bandleden onderstreept nog maar eens hoe goed ze op elkaar ingespeeld zijn ondertussen. De sfeer schommelde voortdurend tussen ingetogen kippenvelmomentjes, headbangen en staan springen op de groove van de muziek. De energie van de Nederlandse schone en haar mannen sloeg duidelijk over op het publiek. Het hele verschroeiende optreden zag je een mosh aan de gang en regelmatig passeerde er een zweterige crowdsurfer. Absoluut hoogtepunt van de avond! Indien je hun nieuwste werk eens wil checken, lees onze review erop na.
Setlist:
Intro
Absurdist
Flawless
Hollow Crown
The Verdict
Nerve Cell
Weightless
Stormsleeper
Singing Sirens
Disconnect
Thalidomide
Nadat het huis op zijn vestingen daverde, kwam Evil Invaders eraan om wat nog overschoot tot splinters te herleiden! Ik had al eerder gehoord dat een optreden van de jonge thrashers vol energie zat, maar niets kon me voorbereiden op de allesvernietigende nucleaire bom dat ons omver blies. Er was geen moment rust te bespeuren in hun set dat in een sneltreinvaart van het ene nummer naar het andere holde. Muzikaal tappen ze uit het vatje old school thrash uit de jaren tachtig en dat kon het publiek -inclusief mezelf- ten volle smaken. De kwaliteit en het niveau van hun optreden was van het beste dat die dag het podium heeft gevuld. Voor zo'n jonge kerels een heel indrukwekkende show waarin ze prachtig speelden met de extra verlichting en rookzuilen die ze met zich meebrachten. De afwezigen hadden meer dan ongelijk!
Setlist:
Fast Loud 'N' Rude
Driving Fast
Pulses Of Pleasure
Shot To Paradise
Siren
Stairway To Insanity
Fabulous Disaster (Exodus cover)
Victium Of Sacrifice
Master Of illusion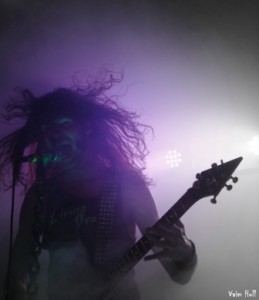 Headliner van de avond was het Zweedse Evergrey dat overgevlogen was voor een exclusieve show in België. De band had er veel zin in, genoot uitgebreid van wat Belgisch vloeiend goud en joeg de temperatuur weer een paar graden hoger. De melodic progressive metal bracht een groot aantal fans naar het kleine Izegem en de sfeer zat wel goed. Voor mij persoonlijk mocht er wel wat meer kracht achter hun muziek zitten. Vooral als afsluiter van een dag vol verschroeiend hete en energierijke optredens miste ik wat "oomph". Nochtans was de kwaliteit van ieder nummer niet te ontkennen en stond de show als een huis. Het emotionele moment waarop de band een aantal nummers opdroeg aan organisator Jurgen Callens (en zijn pas overleden vader) toonde nog maar eens hoe hecht en geweldig de metal community is, petje af hiervoor!
Setlist:
King Of Errors
Leave It Behind Us
The Fire
Monday Morning
Broken Wings
Black Undertow
Blinded
Masterplan
Nosferauto
Words Mean Nothing
Missing You
Walls Go Down
Recreation Day
Touch Of Blessing
Grand Collapse
Voor hogere kwaliteit en meer foto's volg deze link. Bedankt voor een geweldig dagje muziek en respect voor het geven van de vele kansen aan onze lokale metal- en hardrockhelden! Headbanger's Balls Fest: you rock!