The Finnish heavy metal monsters of Lordi and especially Mr. Lordi himself have always done things their own way. Every album has that distinctive Lordi sound, but in some ways every album has a special different touch to it as well. With their 10th release already, they worked out yet another concept that is so typically "out there" that it is rather unique.
'Killection' is a fictional compilation album on which they follow the idea of "What if Lordi has been making music since the 70s? What would a compilation of their hits through the decades look like?". The result is an album with tracks that all have the signature Lordi sound, but differ in sound fitting the year or period it supposedly was made in. They went even as far as using 7 different recording studios and rent gear that matches what they would've had at the time they supposedly recorded the tracks. So when they recorded a 70s track, they went analogue with 24 track tape and kept all the ambient noise and little faults and mistakes you would've had back in the day. As an absolute music geek and lover of old rock music, this is a concept that really speaks to me and gets me rather excited. So let's dive into this "compilation"…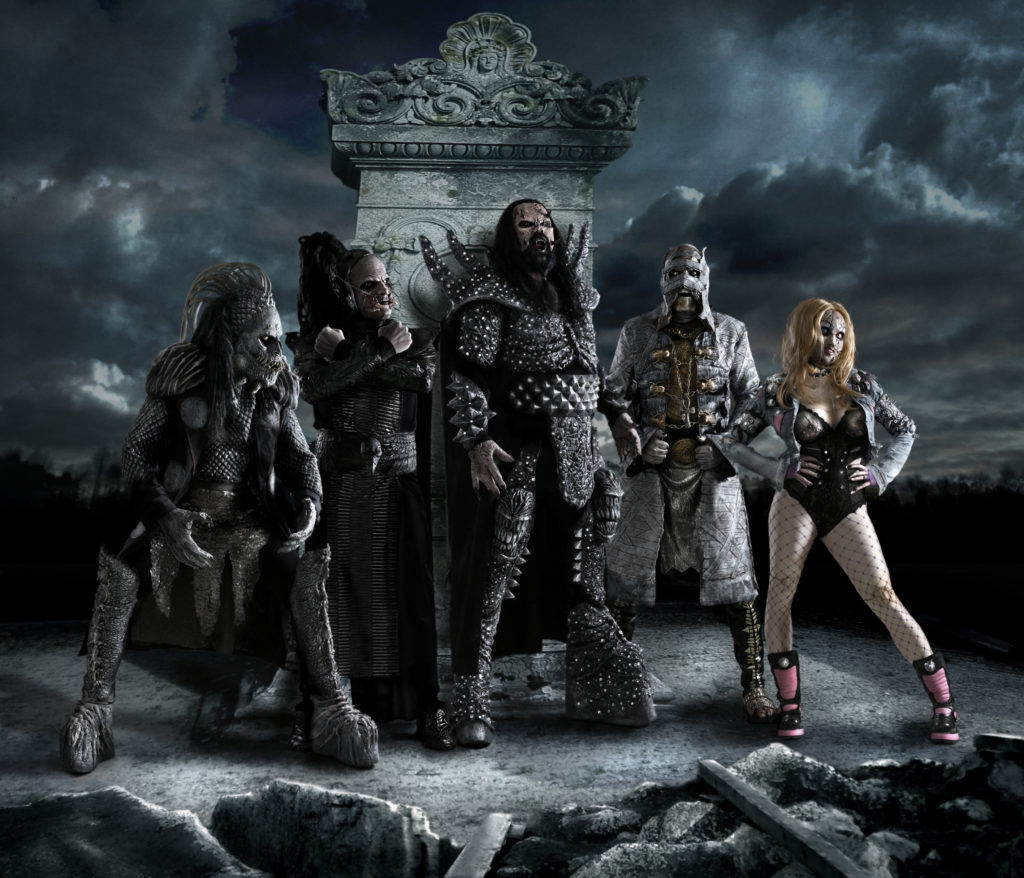 As usual for a Lordi album, it starts of with an intro fitting the concept of the album, this time an excerpt of a radio show advertising the biggest hits in rock. That radio show comes back several times throughout the album, adding that fun factor to it again, getting more hilarious the further down the tracklist you get and actually giving the compilation a sort of narrative and story.
With 'Horror For Hire' they start of with a very typical Lordi track, while 'Shake The Baby Silent' has that 90's White Zombie or even contemporary Rob Zombie vibe with pounding and groovy industrial notes, that easily made this track one of my favorites. Hoping they'll include this one in their future show setlists.
I think you could say that 'Like A Bee To The Honey' would be one of the least standard Lordi tracks on the collection. It's basically one of those typical 80's rock love songs that wouldn't necessarily be anything special, if it hadn't been written by Paul Stanley and Jean Beauvoir, both well-known for their work with Kiss. The band that happens to be one of Lordi's main inspirations. And just to bring it over the top, the Finnish rock legend Michael Monroe is playing some smooth sax parts on it. And even though the lyrics might seem the kind of sticky sweetness that doesn't fit Lordi, they managed to make it their own and somehow add a level of creepiness to it that could make you think the person saying the words is of the stalking type.
And they just continue to impress me with the diversity of the tracks on this album while all the way maintain their signature Lordi sound. 'Blow My Fuse' brings in an early 70's vibe, while 'Zombimbo' veers into the tacky disco sound of the late 70's/early 80's (you know, the one that many rock bands emulated during that time, think of "classics" like 'I Was Made For Loving You' and you're not far off) and with tracks like 'Up To No Good' and 'Cutterfly' 80's party/arena rock makes a sturdy entry. And don't forget about the more modern Lordi sounding 'I Dug A Hole In The Yard For You' and very heavy metal track 'Evil'!
The past decade or so, Lordi hasn't really been surprising (maybe with the exception of the 'Demonarchy' side of 'Monstereophonic'), consistently cranking out the same quality hard rock/heavy metal tracks. But with 'Killection' they really hit it hard on the creativity department. Compiling a fictional compilation album, managing to create and record songs that are consistent with both their signature sound and the time period in which it should've been recorded, Mr. Lordi and his monsters showed off what a talented bunch they truly are. I've really enjoyed this impressive piece of work and they got me very excited about them again!
Release date: January 28th, 2020
Label: AFM Records
Tracklist:
Radio
Horror For Hire
Shake The Baby Silent
Like A Bee To The Honey
Apollyon
The Last Hour
Blow My Fuse
I Dug A Hole In The Yard For You
Zombimbo
Up To No Good
Demonic Semitones
Cutterfly
Evil
Scream Demon
I Am Here