With all the end of the year album lists Pick Your Poison felt obliged to create our own top 10 list of beers we sampled during the year 2018. With about 779 beers checked in on Untappd this year (and the holidays haven't even begun…) we got quite the choice. "How the heck do you drink more than 779 beers in one year", you might wonder? The thing is we didn't drink all of them alone. Sharing is caring. Readers might notice these are not only metal beers and not only the most rare or exclusive beers that made it to our top 10 list. Because for us the quality of a beer is often not decided by its rarity or price but rather on the experience of tasting it and the atmosphere surrounding the moment. The beers are listed in no particular order. As always we were so kind to provide you with a music pairing suggestion of which you can find the compilation in a Spotify playlist below. We hope you feel inspired to try or search for some of the beers in our list yourself and when you do… let us know what you think on our Facebook or Instagram page!
Põhjala (Estonia) – Sajand – Baltic Porter – 12,3% ABV
The leading Estonian craft brewery creates wonderful beers all along the style spectrum and is one of the few breweries that creates baltic porters that I can truly appreciate. Põhjala's Cellar Series contains their precious barrel aged projects and is often a guarantee for a liquid delight. It was no different for Sajand, a rye Baltic Porter brewed to celebrate the first full century of Estonia's independence. Barrel aged in cognac and bourbon barrels with oak cubes soaked in the most famous Estonian liquor 'Vana Tallinn'. The warming sensations of the unknown flavors of this Estonian liquor made it a perfect closer after a very interesting tap takeover by Laugar in Beerlovers Bar. We also sampled Laugar and Austmann's Thriller that night. Go check out the review.
Music pairing: Nightwish – Beauty of the Beast
Lehe Pruulikoda (Estonia) – Singularity – Bourbon Barrel Aged Imperial Stout – 18%
A while ago I had the honor of sharing this behemoth of a stout by Lehe Pruulikoda with friends of the Ghent Beer Association during the first edition Black Beer Fest. It's spicy, immensely warming and yet so smooth despite its ABV. You just can't have a whole beer of it on your own if you want to try other things. Sharing and discussing it with friends make it so much more enjoyable. Another great experience this year was sharing the Molotov Heavy by Evil Twin Brewing (17,2%) which gave a whole new dimension to what an IPA could taste like. An immense body with still a blast of hops!
Music pairing: TesseracT – Singularity
Hop Hooligans (Romania) – Never Over: Buffalo Trace BA – Bourbon Barrel Aged Imperial Stout – 12%
Another première at Black Beer Fest was my very first Romanian beer. I fear that every future brew from Romania I drink will unintentionally be compared to this divine stout and lose the battle. An immense depth with perfect balance. Keep an eye out for these Hop Hooligans. It's these kinds of discoveries that make beer tasting so much fun.
Music pairing: Avatar – Night Never Ending
Weird Beard Brew Co. (England) – Black Perle – Milk Stout – 3,8% ABV
Before you think I only like the heavy stuff, let's talk about this one. Things to do when in London: visit Big Ben, watch a musical or theater show, stroll around in Hyde Park, visit a traditional English pub, … and have an authentic English breakfast! I stayed in London for a whole month this year and made it worth my wile. I have a rule that I do not drink before noon but I made an exception that I do not regret for this tasty low ABV milk stout. If the Weird Beard brewer recommends to drink it with your morning bacon, eggs, beans and black pudding, who am I to ignore that advice. The fact I drank this beer three miles from the brewery made it a truly 'support your locals'-effort as well! Another honorable mention must go to The Wild Beer Co, another English brewery I indulged on while in London. To my surprise these guys had a summer pop-up bar at the Tate Modern museum which made my evening walks along the Thames so much tastier.
Music pairing: Alestorm – Drink
Lervig (Norway) – Liquid Sex Robot – Imperial New England IPA – 7,9% ABV
The more beers you sample the more you learn. However, it's not always the beer that speaks to you (unless you really drink a lot), sometimes it's also the people you drink it with. This year I met Dylan Verduyn aka Kraddel aka Siris About Beer. His educational tasting sessions are fun and interesting to attend and are highly recommended for anyone who wants to learn more about beer. This year Dylan also checked in his 10.000th beer on Ratebeer and celebrated the occasion with 10 brews if his own, all in a metal theme. We are still hunting all of them down but be sure to read a first review of Give My People Black (Ministry of Belgium Beer/Pils 13). Oh why Liquid Sex Robot by Lervig, you ask? Have you tasted this beer?! It's velvet love making on the palate and a nice style example of how a NEIPA should actually taste (according to Siris About Beer).
Music pairing: Hatchling – Holly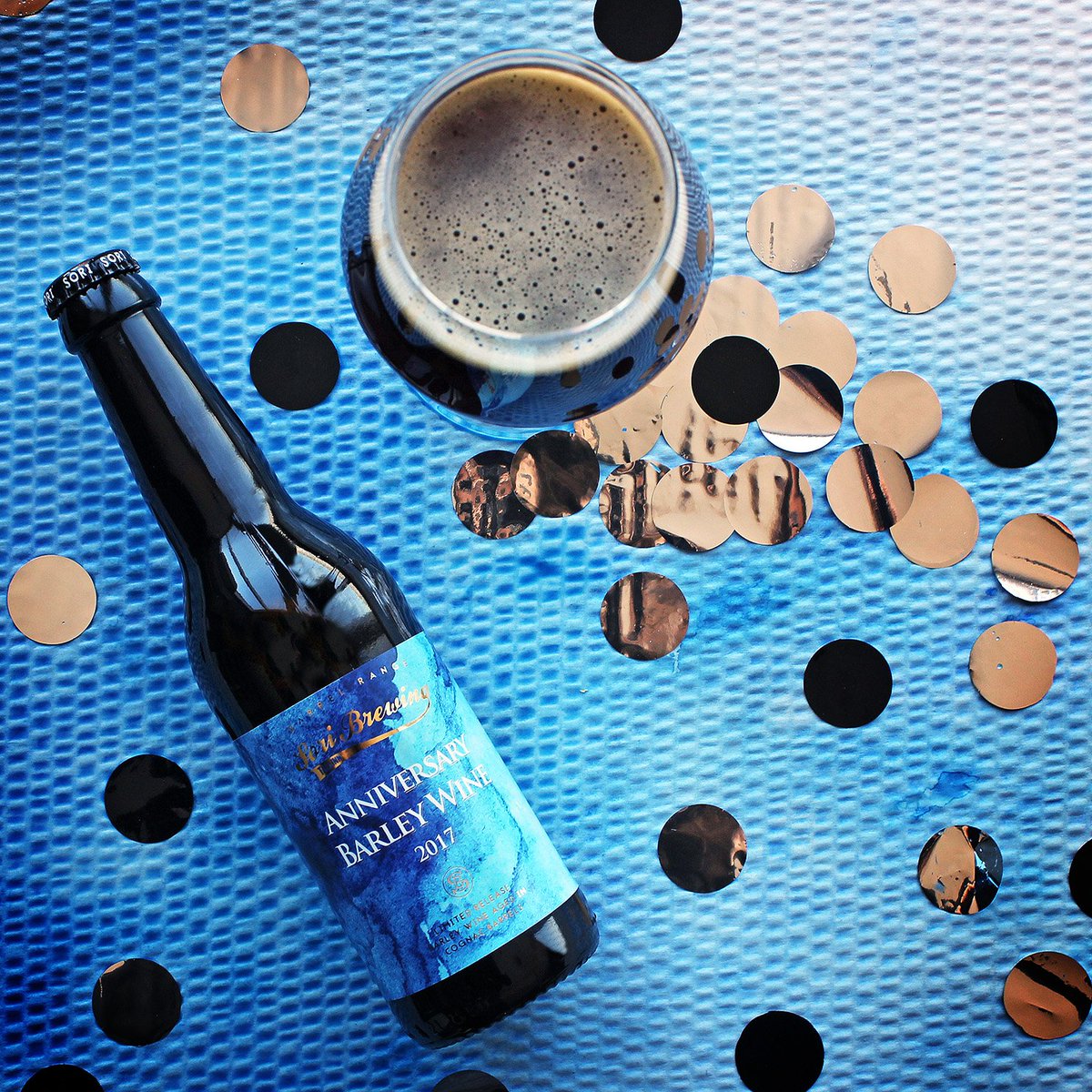 Sori Brewing (Estonia) – Anniversary Barley Wine 2017 – Barleywine – 11,6% ABV
And yet another Estonian craft brewer in this top 10. While Estonia and Põhjala celebrated their century of independence in 2018, the two Finns behind another amazing Estonian craft brewery already commemorated 100 years of Finland's independence last year. Some things just get better with age. Beside the fact that this is an amazingly rich beer with notes of dates, plums, honey and just the perfect level booziness, this beer reserves a special memory because I drank it not on Sori's anniversary, not on Finland's independence day, but on the birthday of my Pick Your Poison partner in crime who in fact lives in Finland. In fact, he brought the beer with him for me on one of his rare visits to Belgium. Sampling and discussing beers with over 2000 km in between can be an interesting endeavor.
Music pairing: Wolfheart – Breakwater
Nevel Artisan Ales (The Netherlands) – Aard – Barrel-aged Golden Sour with Kvass – 5,2% ABV
I had heard about Nevel in the past but 2018 was the year I finally got to try some of them. And I swear, from now on I will try every Nevel beer I can get my hands on! While their flavors might not be for everyone, I am intrigued by their use of local, organic herbs and ingredients. Their brews often taste like nothing you have after tried before which makes them so complex and fun to explore. For the top list I selected their Aard, a herbal blend of barrel-aged golden sours and homemade kvass (fermented Slavic bread drink) with notes of red beets  and absinthe wormwood. It's tart, refreshing, earthy, … so many flavors to discover!
Music pairing: Gojira – Wolf Down The Earth
Het Uiltje & De Molen (Netherlands) – Light Darkness & Balance – Imperial Stout (Eisbock) – 19,3% ABV
Oops, another mastodont of a beer. Triple eisbock imperial stout that aged on Speyside whiskey barrels for over over a year with the extra addition of American oak chips. These bottles disappeared faster from the vendor than we could say "May The Force Be With You". With the dark side from De Molen and the Jedis from Het Uiltje this beer brings together two of the Netherlands' finest. The alcohol is strong in this one so if you can get your hands on one, share it with your fellow rebels or troopers. This beer is for every Star Wars fanboy or fangirl.
Music pairing: Galactic Empire – Duel of the Fates
B Nektar Meadery (USA) – Zombie Killer – Cider – 5,5% ABV
We know, we know… many of you are going to get a slight twitch when seeing us mentioning a cider in our list with many great beers. Ciders and meads are indeed not really beers, but the process to create them is close enough and we don't only focus on beers, even though it might seem so! This specific cider from B Nektar was the perfect combo of the right moment en great flavors, having picked this up as one of the many craft drinks for a BYOB Halloween party of friends. The cider brought all the flavors that were promised from clearly top quality ingredients: lovely apple, the sweet & sour punch of cherry juice and a silky layer of sweet honey all blending into a smooth drink. Not overly sweet with a touch of tartness, it was the perfect (theme matching) drink at a fun party with good friends! Looking at how damn good this cider was, we've been beating ourselves for the head that we didn't take any of the other creations they had at the shop!
Music pairing: Grave Digger ft Russkaja – Zombie Dance
Totem (Belgium) – Odroerir – Braggot – 6,66% ABV
We can't close this year overview without mentioning GRIMM's very own Odroerir beer. We wrote down all we got to say about it in our review (as far as we can be objective about a beer we actively helped creating). In our opinion the beer grows steadily more complex and even better while aging in the bottle. Every time we drink it the added mead releases more and more of its depth and flavors.
Music pairing: Ensiferum – One More Magic Potion
Stay tuned for another year of Pick Your Poison with more reviews and also another GRIMM beer!
Enjoy the Spotify playlist below!