While Canadian progressive sci-fi metal innovators VOIVOD are completing their current European summer touring run, they have now announced next touring activity in support of their current and much acclaimed studio effort "The Wake", which was released via Century Media Records worldwide last September. Next to comprehensive tour of North America for September-October with Revocation, VOIVOD will also be returning to Europe and the UK together with the one and only Gwar in November-December.
VOIVOD drummer Michel "Away" Langevin checked in with the following comment: 
"At last, after centuries, Gwar and VOIVOD will travel all the way from Antarctica and Morgoth to conquer Europe this winter!"
VOIVOD have recently been nominated for "International Artist of the Year" in the 2019 Progressive Music Awards. The awards ceremony is to take place September 12th in London at the Shakespeare's Globe Theatre. More info HERE!
VOIVOD have previously won the Juno Award (Canadian equivalent to the Grammy Awards) for "Metal/Hard Music Album Of The Year" for their "The Wake" album, which was recorded and mixed by Francis Perron at RadicArt Recording Studio in Canada and its artwork was once again created by VOIVOD drummer Michel "Away" Langevin. The album entered sales charts in various countries upon release as follows: Germany: # 26, Switzerland: # 51, Belgium (Wallonia): # 94, USA Current: # 97, USA New Artist: # 8 and USA Overall: # 148.
You can order "The Wake" in various formats HERE!
More VOIVOD news soon…
VOIVOD are:
Snake – Vocals
Chewy – Guitar
Rocky – Bass
Away – Drums
VOIVOD online:
Website
Facebook
Instagram
---
People of Europe!!! It has been over 10 years since your Alien Overlords GWAR feasted on the souls of the Old World. At last, the wait is finally over. The time has come for GWAR's insatiable thirst for blood to be quenched. Yes, you heard right! Your Lords and Masters GWAR will make their triumphant return across the pond late this November into December on their "Use Your Collusion" 2019 European & UK Tour. The attack begins in Bochum, Germany on November 22nd. They end their invasion by storming Zurich, Switzerland on December 14th, and by that time the continent will be little more than a smoldering pile of poo. Main support for the whole tour are metal legends VOIVOD! All tickets will be available for purchase at gwar.net. Pre-sales begin already started, so go get your tickets!
Guitarist Pustulus Maximus says:
"GWAR has waited long enough to terrorize youth across the pond. What better way to spend a winter than pillaging and copulating across Europe"
Lead singer The Berserker Blóthar chimes in,
"All of Europe will bow to the majesty of GWAR! We will destroy your cities and consume all of your drugs. We will bring welcome death to the most depressed, emotionally and sexually repressed people on Earth. I cannot wait to wreak havoc on your infinitely inferior plumbing."
Drummer JiZMak da Gusha adds,
"In Europe they call me doner kabob because that's all I eat there. I Love European culture. Can't wait for the tour".
Footage of the band announcing the tour has leaked from their fortress in Antarctica. Watch the video:
GWAR is:
The Berserker Blóthar: Lead Howler
Beefcake the Mighty: Bass Guitar, Vocals
Pustulus Maximus: Lead Guitar, Vocals
BälSäc the Jaws 'o Death: Rhythm Guitar, Vocals
JiZMak da Gusha: Drums
Bonesnapper: Bodyguard, Crappy Vocals
Sawborg Destructo: Annoying Nemesis, Annoying Vocals
For More Info Visit:
https://www.gwar.net
https://www.facebook.com/gwar
https://twitter.com/GWAR
https://www.instagram.com/GWAR
https://www.youtube.com/gwar
https://giphy.com/GWAR
---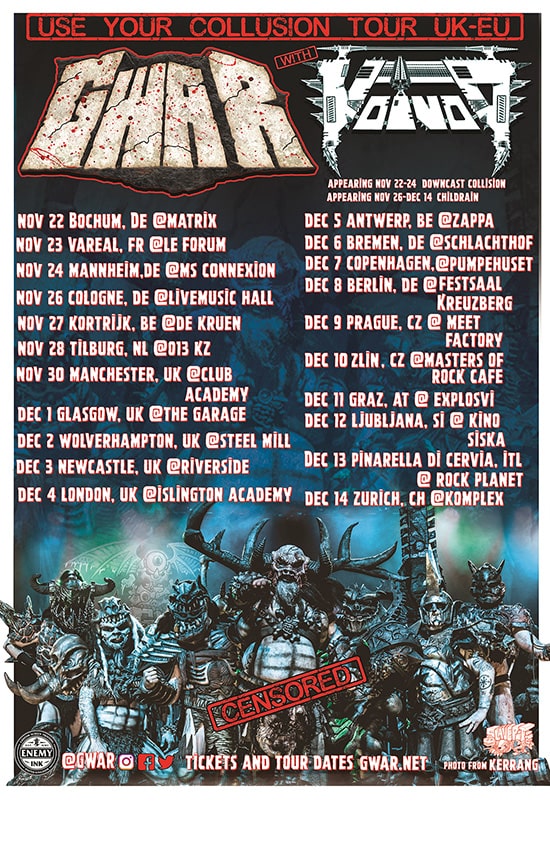 GWAR "Use Your Collusion" Europe & UK 2019 Tour:
Nov. 22: Bochum, DE @ Matrix*
Nov. 23: Vaureal, FR @ Le Forum*
Nov. 24: Mannheim, DE @ MS Connexion*
Nov. 26: Cologne, DE @ Live Music Hall
Nov. 27: Kortrijk, BE @ De Kruen
Nov. 28: Tilburg, NL @ 013 KZ
Nov. 30: Manchester, UK @ Club Academy
Dec.1: Glasgow, UK @ The Garage
Dec. 2: Wolverhampton, UK @ Steel Mill
Dec. 3: Newcastle, UK @ Riverside
Dec. 4: London, UK @ Islington Academy
Dec. 5: Antwerp, BE @ Zappa
Dec. 6: Bremen, DE @ Schlachthof
Dec. 7: Copenhagen, DK @ Pumpehuset
Dec. 8: Berlin, DE @ Festsaal Kreuzberg
Dec. 9: Prague, CZ @ Meet Factory
Dec. 10: Ziln, CZ @ Masters of Rock Cafe
Dec. 11: Graz, AT @ Explosvi
Dec. 12: Ljubljana, SI @ Kino Siska
Dec. 13: Pinarella di Cervia, ITL @ Rock Planet
Dec. 14: Zurich, @ Komplex
VOIVOD Main Support All Dates
*- Downcast Collision (from…The Netherlands) opens Nov. 22-24
– Childrain (from…Basque Country) opens Nov. 26- Dec.14