The Brazilian black metal underground stalwarts of MYSTIFIER are about to embark on their European tour. The rampage will kick off at the Dvorana Gustaf in Maribor (SI) today Oct 23rd and sees the band delivering sweat dripping shows in twelve more countries until a final curtain at the Traffic Live, Rome (IT) on the 18th of November.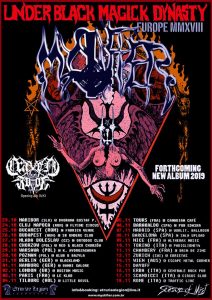 MYSTIFIER
23 Oct 18 Maribor (SI) Dvorana Gustaf
24 Oct 18 Cluj Napoca (RO) Flying Circus
25 Oct 18 Bucarest (RO) Fabrica Venue
26 Oct 18 Budapest (HU) S8 Underg Club
27 Oct 18 Mlada Boleslav (CZ) Ortodox Club
28 Oct 18 Chorzow (PL) Red & Black Chorzow
29 Oct 18 Warsaw (PL) Hydrozagadka
30 Oct 18 Poznan (PL) Klub U Bazyla
31 Oct 18 Berlin (DE) Blackland
01 Nov 18 Hamburg (DE) Bambi Galore
02 Nov 18 London (UK) Boston Music Hall
03 Nov 18 Paris (FR) Le Klub
04 Nov 18 Tilburg (NL) Little Devil
05 Nov 18 Tours (FR) Canadian Café
06 Nov 18 Barakaldo (ES) Pub Edaska
07 Nov 18 Madrid (ES) Wurlit Ballroom
08 Nov 18 Barcelona (ES) Sala Upload
09 Nov 18 Nice (FR) Altherax Music
10 Nov 18 Torino (IT) Padiglione
11 Nov 18 Chambery (FR) Brin de Zinc
13 Nov 18 Zurich (CH) Ebrietas
14 Nov 18 Vienna (AT) Escape Metal Corner
16 Nov 18 Erba (IT) Centrale Rock Pub
17 Nov 18 Scandicci (IT) Circus Club
18 Nov 18 Rome (IT) Traffic Love
Season of Mist previously announced the signing of MYSTIFIER. The Brazilian black metal underground stalwarts will release their long anticipated next album through the label in 2019.
MYSTIFIER comment:
"We have spend 29 years on the road and 17 years without releasing an album. Finally, we have signed a deal for a new record with one of the biggest labels of extreme music. We were introduced to Season of Mist boss Michael Berberian during our European tour, 'Bloodshed Rituals 2016' with ROTTING CHRIST, but we never imagined becoming a part on such a select roster. We expect our alliance will prove beneficial for all parties involved and we extend our gratitude to every fan, producer, photographer, sound and light engineer, fanzines, record label, tour manager, and everybody else, who took part of our long underground history. Towards infinity!"