It's good to know there are still shows being announced despite the global pandemic restrictions. Gives us something to look forward to. Today three-piece extreme metal formation Vltimas are now announcing new European tour dates with label mates The Great Old Ones at the end of 2020. Check all the confirmed dates below and mark you calendars:
26 Nov 20 Vosselaar (BE) Biebob
27 Nov 20 Weinheim (DE) Café Central
28 Nov 20 Bochum (DE) Matrix
29 Nov 20 Martigny (CH) Sunset
30 Nov 20 Colmar (FR) Grillen
01 Dec 20 Munich (DE) Backstage
02 Dec 20 Vienna (AT) Viper Room
03 Dec 20 Prague (CZ) Nova Chmelnice
04 Dec 20 Dresden (DE) Reithalle
05 Dec 20 Copenhagen (DK) Hotel Cecil
06 Dec 20 Stockholm (SE) Slaktkyrkan
07 Dec 20 Oslo (NO) John Dee
08 Dec 20 Göteborg (SE) Valand
09 Dec 20 Frederica (DK) Ungdommens Hus
10 Dec 20 Hamburg (DE) Logo
11 Dec 20 Eindhoven (NL) Eindhoven Metal Meeting
12 Dec 20 Göttingen (DE) Exit
Blasphemer comments on the tour:
I'm stoked to announce our PRAEVALIDVS EVROPA MMXX headliner tour. The tour will mark an end to the European touring cycle for 'Something Wicked Marches In' as well as igniting the 2nd chapter for the band. A new album is in the works and we hope to have it ready for you all by mid 2021. French masters of Lovecraftian Magick, The Great old Ones will be serving as direct support every night. A package not to be missed.
The Great Old Ones comment:
Cultists! We are proud and honored to participate in this tour with Vltimas. The current situation has only intensified our desire to hit the road, and come to offer you intense Lovecraftian shows. We can't wait to see you, be prepared for a powerful journey into the cosmic depths. Stay safe, and worship Cthulhu!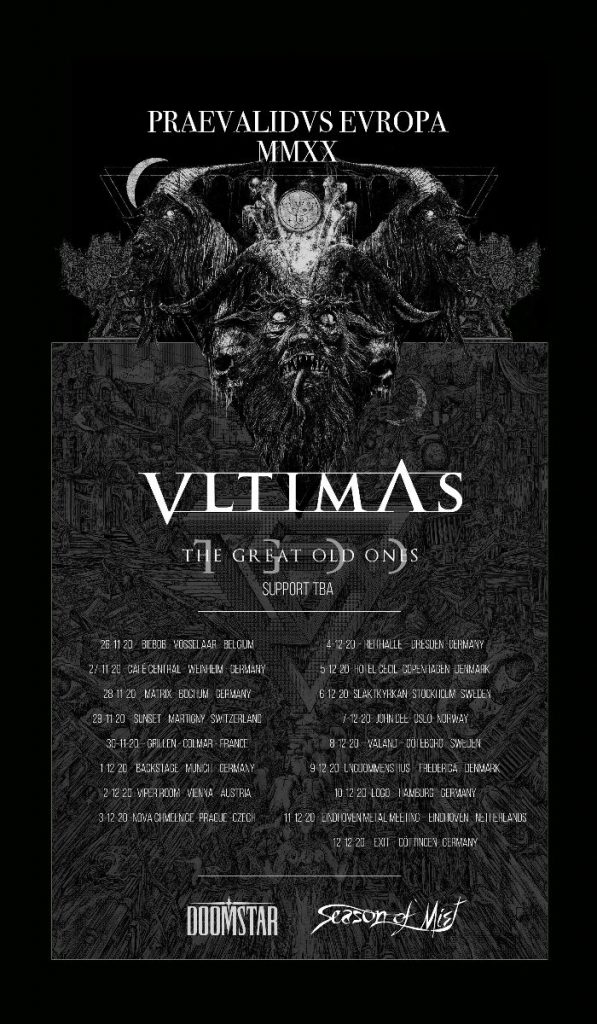 Vltimas and The Great Old Ones kick off their tour in Belgium's very own Biebob, a venue renowned for its extreme music line-ups. Find us there and come say hi!