Sadly earlier this week, Brutal Assault had to announce the cancellation of one of the bigger names on their 2019 line-up. Due to organisational reasons, Dimmu Borgir is forced to cancel participation in Brutal Assault 2019, but they are already discussing their performance for the following year.
On the other hand they have a couple of new bands for you to replace the loss of the symphonic black metal band! First there are the Polish preachers BATUSHKA who are on fire right now and who will bring their mass of dark psalms to the metal masses again. And on top of that they bring a household name of the black metal genre. As a preliminary Christmas gift they have Norwegian cult EMPEROR for you! With the musical visionary Ihsahn in front, we can look forward for one of the greatest legends of extreme metal that brought us treasures like Inno a Satana, Into the Infinity of Thoughts, Towards The Pantheon and many more!
So far the full line-up goes:
ABORTED, AFTER THE BURIAL, ALIEN WEAPONRY, AGNOSTIC FRONT, ANNAL NATHRAKH, ANATHEMA, ANNOTATIONS OF AN AUTOPSY, ANTAEUS, ANTHRAX, BATUSHKA, CARCASS, CARPENTER BRUT, COUNTING HOURS, CRYSTAL LAKE, CULT OF LUNA, CYTOTOXIN, DEICIDE, DAUGHTERS, DESTRUCTION, DIABLO SWING ORCHESTRA, EKTOMORF, ELECTRIC WIZARD, EMPEROR, GET THE SHOT, GODFLESH, GUTALAX, HEILUNG, HIGHER POWER, HYPOCRISY, IMMOLATION, IRON REAGAN, JINJER, JUNGLE ROT, KRISIUN, LIONHEART, MANES, MESHUGGAH, METAL CHURCH, MGŁA, MIDNIGHT, MYRKUR, NAPALM DEATH, NECROS CHRISTOS, OF MICE & MEN, OCEANS OF SLUMBER, PERFECITIZEN, PRONG, RAISED FIST, ROTTING CHRIST, SACRED REICH, SAOR, SHAPE OF DESPAIR, SLÆGT ,TAAKE, TANKARD, TAPHOS, TESTAMENT, THE OBSESSED, THE OCEAN, THY ART IS MURDER, TOSKA, UNFATHOMABLE RUINATION, VARGRAV, VENOM PRISON, VUUR, WINDHAND, WOLFBRIGADE and WOE UNTO ME.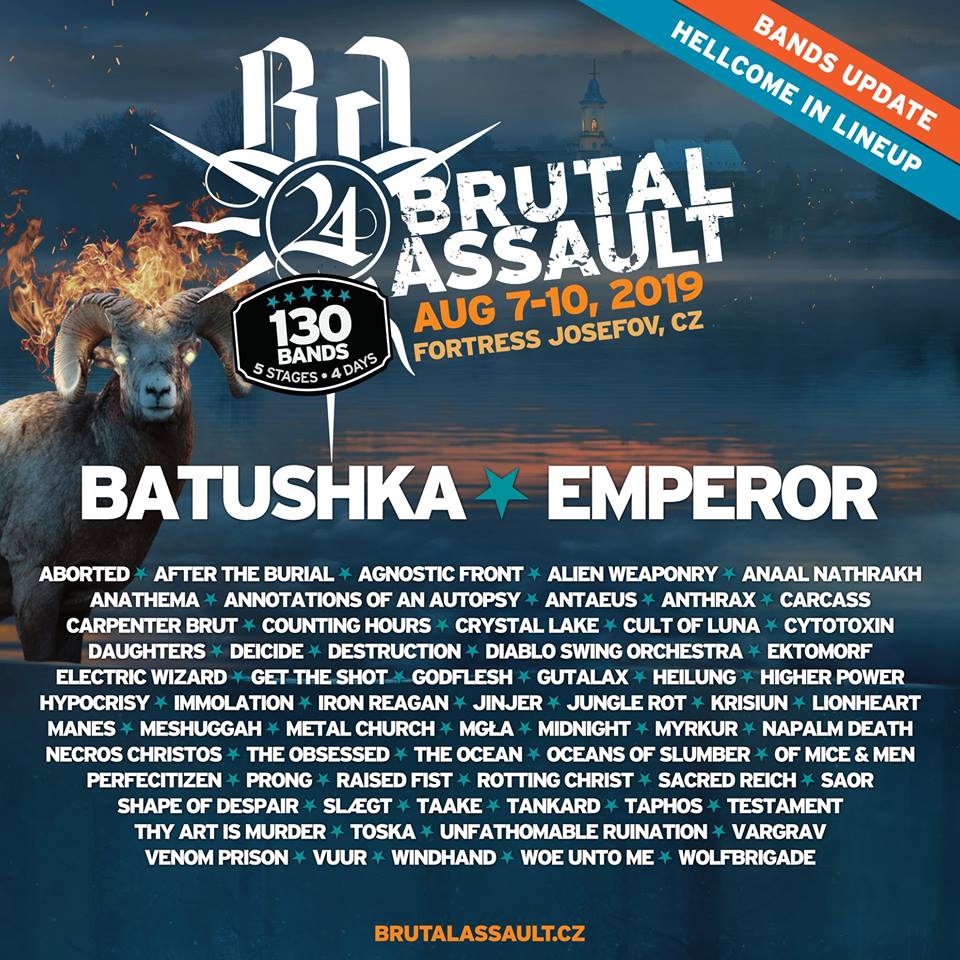 For our report of the 2018 edition of this massive event, go here:
https://www.grimmgent.com/brutal-assault-2018/