"Back to Reality" is the first single of the forthcoming new Incinerate album with the same name to be released on March 6th 2021 via Dead By Dawn Records.
Incinerate states:
After we became a power trio leaner, meaner and super tight. Incinerate was reborn and hungry for more. As a 3 piece, we started to write a follow up to Amazon Violence, a more aggressive, more technical and most importantly more violent heavy thrash album in the vain of Exhorder, Demolition Hammer and Solstice. We look at Amazon Violence as a compilation of the first 7 years of Incinerate, Back to Reality is more of a solid comprehensive version of our band.

We recorded at Project Zero Studio, which is the recording studio of Yarne Heylen & Bert Vervoort (from the almighty Carnation). Yarne likes it when things go smooth in the studio, so we just rolled with it, we even were ahead of schedule, can you believe that? It was great working with him, we actually had a relaxing time in the studio.
The end result is everything we hoped for: nice crisp drums, still holding their warm sound , heavy snarling guitars, chunky bass and aggressive vocals

With a great record on its way, all we needed was some extra guidance and we found it in Dead by Dawn Records. Dead by Dawn is a new record label with some already awesome releases . We got in contact through Michaël (Drums), he knows Laura, who owns Dead By Dawn Records. When she came to the studio she liked what she heard and the ball got rolling after that. Dead By Dawn Records is very supportive of us and they helped out a lot. We are very thankful to Dead By Dawn Records, now we have the chance to release our album on vinyl, which is a thing we always wanted to do! It looks amazing!

The artwork is kind of different, we wanted something that would stand out from other death/thrash records out there. The artwork was done by our friend Jim De Vos and he did an amazing job! It's a painted masterpiece and because of this it gives off a late 80s, early 90s vibe. The first time we laid eyes on this baby we were immediately sold!
In contradiction to what the cover art might suggest the theme of the album isn't space per se, it has some references to space, yes, but it is more about what reality is to everyone and how everyone lives in his own reality. It's more about space in the broader meaning of the word space.

This is Back to Reality and this record will blast you away like a 10 ton hammer smashing all in its path!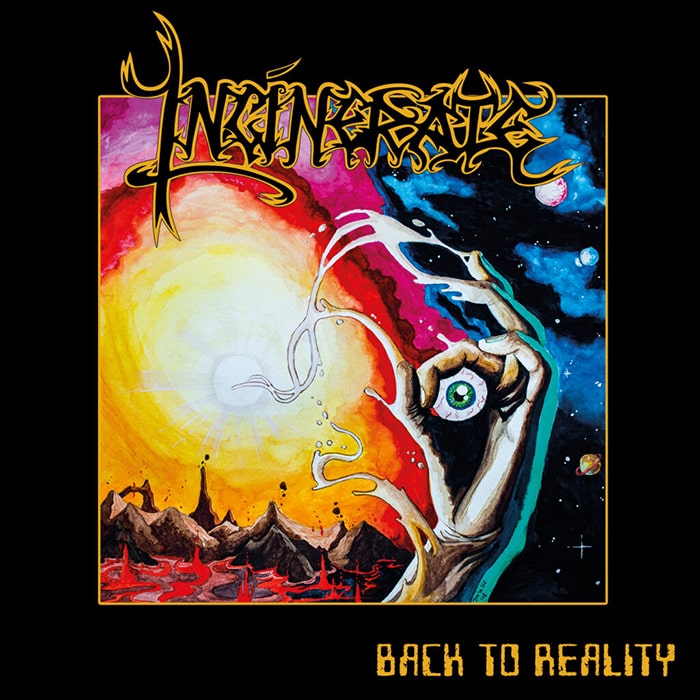 Incinerate online:
https://www.facebook.com/Incinerateantwerp
https://www.instagram.com/incinerateantwerp/
https://open.spotify.com/track/3xyQIqpBidHeoBIByE3e66