UK-based deathgrind unit Foetal Juice dropped a video for the first single and title track of their forthcoming album, 'Gluttony'. The new devastating record is set for release on June 12th via Gore House Productions. The gory music video can be watched below.
Foetal Juice share the following insights on the new track and its video:
With the new album we feel as fans of death metal that it's progressed to new strengths. As a whole it's a lot faster, heavier and much more aggressive, both musically and lyrically, than anything we have previously written. We have taken influence from all extreme genres, whilst still keeping every song within the groove of Foetal Juice.
  
The single we are releasing – 'Gluttony' – is a good representation of the album as a whole. It has a mixture of death metal, grind and black metal elements, that we use throughout the album. Lyrically this is about us and the rest of society being spoilt, greedy, selfish, and not worrying about the gluttonous consequences that come with it.
 
We dramatised the idea of gluttony into a comical horror film, but the general idea is still the same. The kebab in our video is the Holy Grail, and even when consumed, the people want a portion after being teased by the dangling strips of flesh.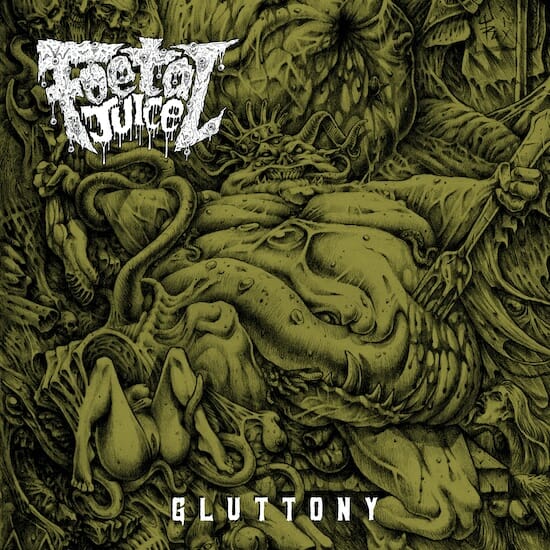 Track list:
1. Take Your Face For A Shit
2. Septic Mollusc
3. Manifestation of Falsity
4. Metamorphosis
5. Venomous Domination
6. Worthless Delusion
7. Trepidation
8. Nether Pandemonium
9. Antagonistic Bastard
10. Carnage
11. Gluttony 03:24
12. Spirit Leech