The countdown is on as GWAR gets ready to release their bone-crushing, corpse-grinding new opus 'The Blood of Gods' out October 20th via Metal Blade Records. As the world continues hurtling through space towards a great conflagration of death and destruction, your alien overlords have dropped 'El Presidente' the second single from the album. Hopefully this will speed things along! Head over to metalblade.com/gwar to listen to the track and pre-order your copy of 'The Blood Of Gods'. Digital pre-orders come with instant downloads of both 'Fuck This Place' and 'El Presidente'.

Additionally Beefcake the Mighty, has issued a brief "State Of The GWAR Union" address:
GWAR Interrupts President's Speech to Announce New Album, and New SingleVideo has emerged showing Beefcake the Mighty of GWAR interrupting Donald Trump during a bizarre, secret speaking engagement being held In the basement of a Washington area pizza restaurant. The footage, captured on a cell phone, depicts the rotund bass guitarist shoving Trump aside to announce the October 20th release of "The Blood of Gods" and the new pre-order download track "El Presidente." Check it out… at http://metalblade.com/gwar

Slået op af GWAR i Onsdag den 13. september 2017
Concerning the album: 'The Blood of Gods' chronicles the rise of humanity against their makers, and the massive battle between GWAR and the forces of all that oppose them. Along the way, the band challenges the sins of humanity from politics, pollution, and organized religion, to fast food, and factory farming. Humans are shown as what they are; a parasitic disease that must be eradicated before they suck the planet dry!
GWAR LIVES MOTHERFUCKERS!
'The Blood of Gods', produced, recorded, mixed and mastered by Ronan Chris "Lord God" Murphy, will be released October 20th via Metal Blade Records. The album will be available in Standard CD, 2LP Colored Vinyl and Digital formats.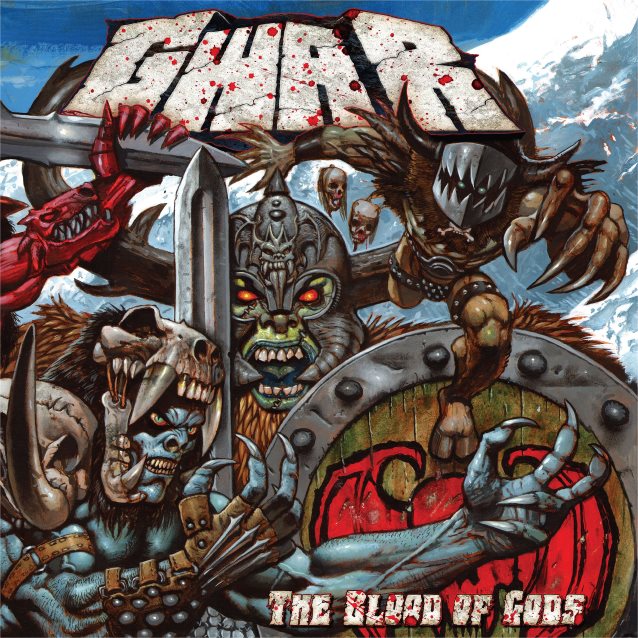 The Blood of Gods Track Listing:
1. War on GWAR
2. Viking Death Machine
3. El Presidente
4. I'll Be Your Monster
5. Auroch
6. Swarm
7. The Sordid Soliloquy Of Sawborg Destructo
8. Death to Dickie Duncan
9. Crushed By The Cross
10. Fuck This Place
11. Phantom Limb
12. If You Want Blood (You Got It) – AC/DC Cover
And if you haven't gotten your fill of GWAR yet, here's the video of the other single 'Fuck This Place':