No need to wait any longer, since you all definitely want to hear what bands they've booked for BRUTAL ASSAULT 2019 so far. Let's start then with German thrash metal giants DESTRUCTION, who will nail many of you moshers to the walls of the fortress. The band is in the best possible shape and crushes stages like never before. Sticking with thrash metal, even though with a bit more groove to it with EKTOMORF coming to introduce us their new album 'Fury' (2018). Another groove sensation comes with JINJER and their charismatic frontwoman Tatiana Shmailyuk behind the microphone, also introducing BA fans to their new album.
Cold and sorrow will come with two bands from (where else than) Finland. We are talking about funeral doom act SHAPE OF DESPAIR, whom you can remember from BRUTAL ASSAULT six years ago and COUNTING HOURS ushering the fortress into shadows with their depressive sorrowful rock.
And now, the hearts of all death metal fans shall start to race! They are coming with three bands representing different depths of this genre. Brazilian commando KRISIUN and their crushing, hot-blooded death metal. The old-school side of things will be presented by JUNGLE ROT from USA, bringing their new self-titled album. And finally there's CYTOTOXIN, crazy band with a mental show playing Chernobyl death metal.
And the last name for this update are legendary essence of NY/HC – AGNOSTIC FRONT! Crossing the pond to celebrate their 35 year anniversary with a tour, the band also releases autobiography of Roger Miret. So you can look forward for a very special show in our beloved fortress!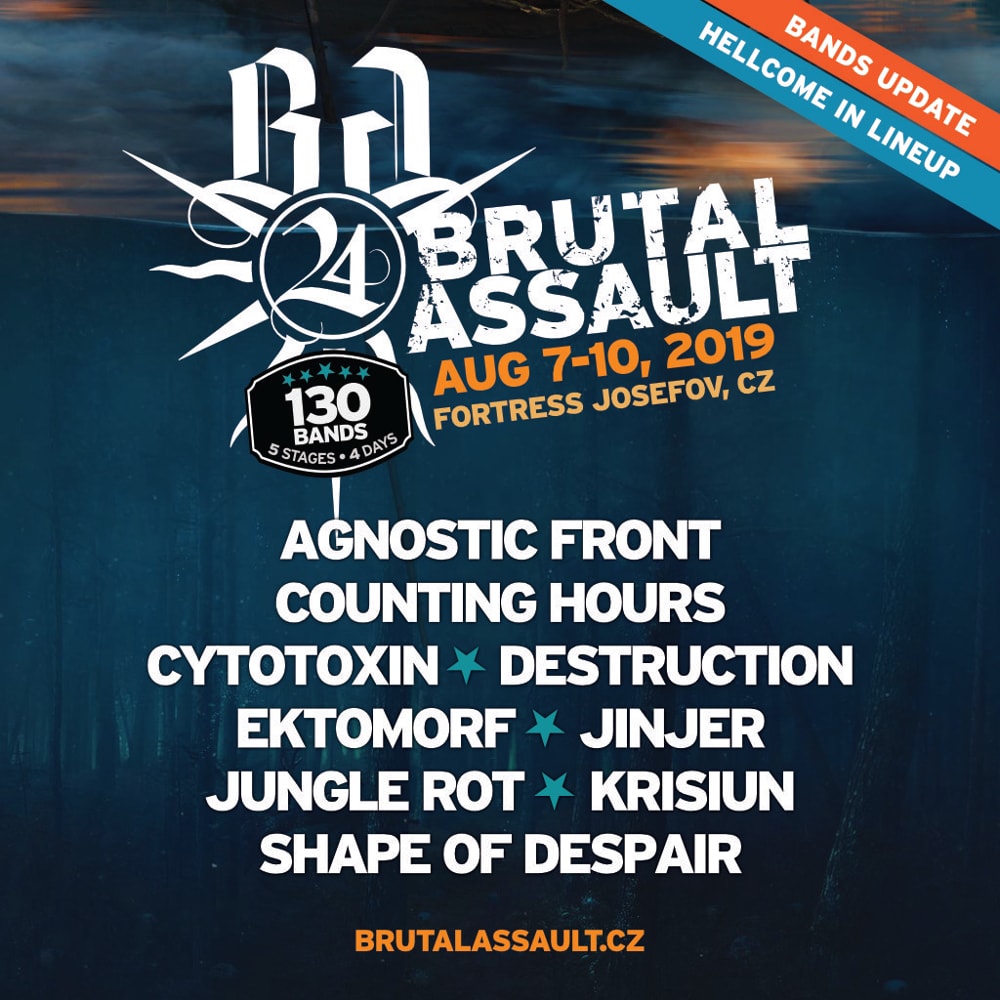 Here are all the bands confirmed for BRUTAL ASSAULT 2019 so far: A PALE HORSE NAMED DEATH, AGNOSTIC FRONT, ANNAL NATHRAKH, COUNTING HOURS, CYTOTOXIN, DESTRUCTION, EKTOMORF, GUTALAX, HEILUNG, JINJER, JUNGLE ROT, KRISIUN, MESHUGGAH, NAPALM DEATH, PERFECITIZEN, RAISED FIST, ROTTING CHRIST, SHAPE OF DESPAIR, SAOR, TESTAMENT, UNFATHOMABLE RUINATION & WOLFBRIGADE.