There's a great movement going on in the French metalscene. A lot of ambitious bands and projects are spawning all over the country, and so do the festivals. Some Motocultor organisers joined forces to create yet another great festival: Fall of Summer. Last year our GRIMM reporters went for only one day (read about it in our Dutch coverage here), this edition we're stepping up the game and go for the full experience!
2016 marks the third edition of the cosy Fall Of Summer festival in Torcy, in the outskirts of Paris. Despite existing for only 3 years now, Fall of Summer has already become a household name in the French festival scene. Since last year's edition took place, we noticed a larger international response to the festival. So it's safe to say this can be classified under the banner 'be there, or be square.'
Once again, Fall Of Summer has one hell of a lineup. Next to big names, they also provide a stage for local, upcoming bands. Mostly, they combine a lot of genres, but take only some of the best bands out there. Last time we witnessed the thriumphant marches of Abbath, Mayhem, Destruction, Angel Witch and Triptykon, to give you an idea. This year the concept is exactly the same: 2 stages, 27 bands. But before we break down the lineup, let's take a look on the surroundings and accomodation of the festival.
Fall of Summer takes place in Torcy, a little town in the outskirts of Paris. It's easily accessible by car, and if you plan to make the trip using public transport, it's only a 20 minutes train ride from Paris, starting at the Gare de l'Est. From the station of Torcy it's only a few minutes by bus to the festival terrain. Next to the Torcy train station you also find a Carrefour supermarket.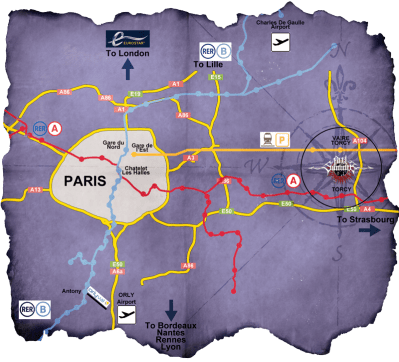 The terrain itself is quite idyllic. The closest scenery to compare it with would bet he be the beach of the 'Blaarmeersen' in Ghent. The Blackwater stage stands at the beach on the shores of a lake, and the terrain is going upwards from there on. This means that whereever you stand, you're always able to see what's going on when a band is playing. On top of that hill you'll find the infamous Black Dog bar for your finest refreshments. On the other side of the hill we find the Sanctuary stage on a small terrain of concrete. So, in short, if you're hungover or just plain lazy, you can sit on top of the hill and turn around every hour and not miss any bands.
On the same side of the hill (which has a passage in the middle so you don't have to go up and down all the time) there's also a big marquee tent which serves as metal market. You'll find all kinds of stands here, and it's a must see for every fanatic of vinyl and cd's. Last year we found some great and rare records there. Prices for merch and music are quite fair too.
At the entrance of the terrain you immediately stumble upon the food coart, which also serves as a bar for a fresh beer, soda or water. Prices are normal for a festival, with one difference than what you'll find on festivals like Graspop or Alcatraz and which is certainly worth mentioning: water is a lot cheaper than other drinks. This is something we don't often see at festivals, but it's great. Next to this bar, you can purchace your food and drink tokens. Also worth mentioning: don't try to smuggle your own booze into the festival terrain! You can try, but you will fail since there's security at the entrance who control everyone that wants to get in. Just let them do their job, it'll be easier for everyone.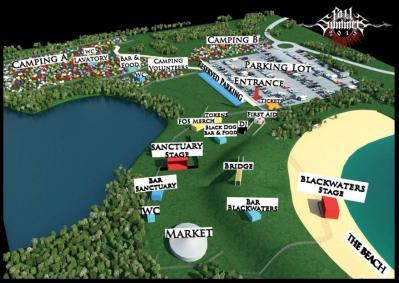 For those who plan on sleeping on the camping site, there's good news for you as well, at least if you don't come to set up your tent when the camping doors have just opened. At first you'll have to set up your tent in the main camping area, but when that's full you can just turn left at the entrance and follow some dusty sandroads. What you'll find is the rest of the camping area, divided into small bits and pieces by bushes. This means that there's lot less noise at night and you'll be able to sleep more quietly, since at the main camping there's also an afterparty going on. A nice bonus is the fact that there are showers available, free of charge.
Talking about afterparties: there are 2 of them. The first one is on the festival terrain itself (Saturday until 3 a.m and Sunday until the 'Fall of Slumber') where some of the artists performing are DJ-ing like there's no tomorrow. What you'll hear is a lot of heavy metal, old school thrash and death metal. The second afterparty takes place on the main camping site, only here the music is quite a bit different: one minute you're headbanging yourself a whiplash on the sweet tunes of Obituary's Chopped in Half, 2 minutes later you're squealing along with Swedish grand maesters of ABBA. Anyway, last year we had a great time at both of the afterparties and met some artists who played the festival there.
Now for the most important part: the lineup! 27 bands have confirmed their presence, and they're not to be taken lightly! Once again, Fall of Summer has been digging deep into the black, thrash, death and heavy metalscene.
On Friday we'll be witnessing some great bands. The honour to kick off the festival has been granted to French thrashers of Hexecutor.  Next up we have Die Hard and ADX, followed by French black metallers Merrimack. They're not the only band playing the black metal genre: Oranssi Pazuzu, Revenge and Samael are scheduled as well. For the death metal lovers the organisation presents us with Vader and Massacra (tribute). Next to all that we have some heavy metal and thrash classics along the road too: Abigail, Manilla Road, Riot V and 80's pioneers Whiplash.
After the hangovers have loosened their grip, we'll be heading to the festival stage for day 2, which means even more great acts to perform on both stages. Again we are presented a splendid mixture of all genres, some bands of which are quite new, whereas others have put their stamp on the scene for multiple years. A great example of a new act is Memoriam, a supergroup with members of Bolt Thrower, Sacrilege and Benediction. Be sure to get your ass kicked by their filthy death metal with grindcore influences.
For lovers of the dark arts there's joyful news as well: Satyricon will play their cornerstone album Nemesis Divina integrally! The black metal hordes of this year's Fall of Summer are completed by Swedish grand maesters Shining, French blastbeat-lovers Hell Militia and black thrashers Nifelheim. On the death metal side of the spectrum, next to Memoriam, we'll be able to witness The Monolith Deathcult, Dead Congregation and Unleashed. Fall of Summer also lined up some death/doom acts on Saturday: Skepticism and Phazm, who switched to 'death 'n' roll' later in their career. Heavy metal fanatics will be pleased to see Grim Reaper and Exciter. After the headliner, we're also looking forward to seeing Tankard playing the aftershow. The bill is completed by the somewhat strange, yet highly acclaimed Claudio Simonetti's Goblin.
The complete timetable can be viewed here.
All in all, we're looking forward to the third edition of Fall of Summer festival in France, the first weekend of september. The lineup contains a lot of diversity and some special sets. See you there?