It's the time of the year again for Dinkelsbühl to go metal, already for the 19th time. Summer Breeze has grown to be one of the leading metal festivals in Germany and beyond, attracting around 45.000 metalheads to go nuts for several days.
The line-up this year speaks for itself. The mixture of bands they have is awesome. Being a 4 days long festival, they get the chance to plan in a wide variety of bands. You can count on 125 bands spread over 5 stages. The artists performing range from really big names in the world of heavy music to small upcoming bands from different countries and everything in between. For a better idea of who's coming check out the official picture below or go have a look at the Summer Breeze site here.
New this year is the addition of a 5th stage: the Campsite Circus where there are several activities to take part in and enjoy. On Tuesday 16th the Fantasy Film Festival takes over the stage to get you already a bit into the mood for the long weekend. There'll be three showings that day of the awesome metal/horror-flick Deathgasm for everyone that is 18 and over! After the last showing, the tent will be turned into a straight-up metal disco for you to take out your best dance moves.
On Wednesday there's Bember's new comedy show Rock 'n' Roll Jesus to which you can laugh yourself silly. After it the first of four (yes, they play every night) shows by NY-based disco metal band Tragedy, to turn the tent into a blistering party. A party that will turn into a metal karaoke to show how impressing your set of lungs are (or not)! In the beginning with you as the "new" singer for Tragedy and later on just with recorded songs.
On Thursday and Friday during the day the tent is taken over by art. The famous cover artists Thomas Ewerhard, Jan Meininghaus and Björn Gooßes will be the guests with the successful art exhibition 'Painted In Blood', which has already had a successful four-week run in Bochum. The three artists will be available in person both days for questions or a chat. Both on Thursday and on Friday Swabian groove metallers Undertow will inaugurate the exhibition with an exclusive unplugged show. After all this Tragedy will return to take over and turn the night on fire!
On Saturday Summer Breeze is taking care of the future generations of visitors. Germany's leading rock band for children Randale will give the kids a little early rock education.
Later on there will be a tattoo contest in collaboration with Germany's most popular skin art TätowierMagazin. A knowledgeable jury will choose the three best metal tattoos of the weekend.
And of course the grand finale of the circus tent's first year will be Tragedy with their charming 'Disco Inferno', where you can burn your last energy reserves.
Even without the new Circus Tent, the campsite is a really great place to be. And luckily it is not far from the festival grounds.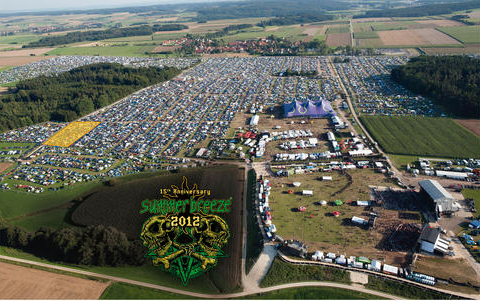 A small little detail that we wanted to share with you still: If you are thirsty you can order Summer Breeze's own ice-cold beer! Which looks to be an awesome thing not many festivals can boast with…

For tickets an more info go to the official Summer Breeze site.
If you're still not convinced that you have to be there, this what you can expect: Have a look at the 2015 aftermovie!
GRIMM Gent will be represented! Hopefully see you all over there!